Before Dreamgirls (2006) there was Sparkle (1976).
The Celluloid Sorceress is proud to present a very rare screening of the cult musical based on stories of Motown and The Supremes, written by Joel Schumacher with songs and music by Curtis Mayfield. She is very excited to welcome acclaimed journalist and broadcaster Samira Ahmed for a pre-show discussion of a film that inspired generations of African-American musicians, filmmakers and artists.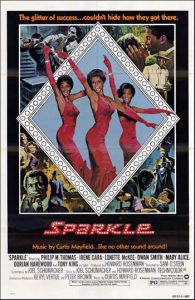 Harlem, 1958: Sparkle (Irene Cara), Sister (Lonette McKee) and Delores (Dwan Smith) appear at amateur nights as "Sister & The Sisters" under the management of Sparkle's boyfriend Stix (Philip Michael Thomas). After a sensational rise, their stardom strains under Sister's appointment as the head of the group and her relationship with the abusive, drug-addicted Satin (Tony King).
Encouraged to write by filmmakers he had worked for as a costume designer, Schumacher took a subject that, having grown up just the other side of Manhattan's 59th Street Bridge, was interesting, familiar and identifiable to him. The only theatrical film directed by acclaimed editor Sam O'Steen, Sparkle confused Warner Bros. when it didn't meet their expectations of a "blaxploitation" flick and despite rave previews became a financial disaster.
R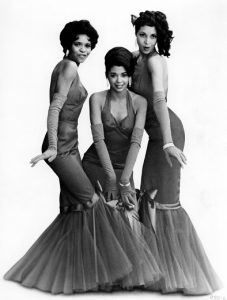 eleased in the same year as Rocky, a similar rags-to-riches story that won the Oscar for Best Picture, Sparkle quickly became a favourite among African-American audiences refreshed by its authenticity and Gold certified soundtrack album. Schumacher went on to write the smash-hit Car Wash (1976) and huge Motown/Universal production of The Wiz (1978).
Only made available on DVD in 2006 to coincide with the release of Dreamgirls, Sparkle was the favourite film of Whitney Houston, who made her final appearance in the 2012 remake. It's an honour to screen this highly significant film from an extremely rare 16mm print.
All profits from this screening will go to the #SaveTheCinemaMuseum campaign fund.
More titles in The Celluloid Sorceress' retrospective of the films of Joel Schumacher:
Doors open at 14.00, for a 15.00 start.
Refreshments will be available in our licensed cafe/bar.
TICKETS & PRICING
Tickets £10 (£7 concessions).
Advance tickets may be purchased from Billetto, or direct from the Museum by calling 020 7840 2200 in office hours.
Season tickets £40 (£32.50 concessions) for all the Celluloid Sorceress Joel Schumacher films available from Billetto, or direct from the Museum.