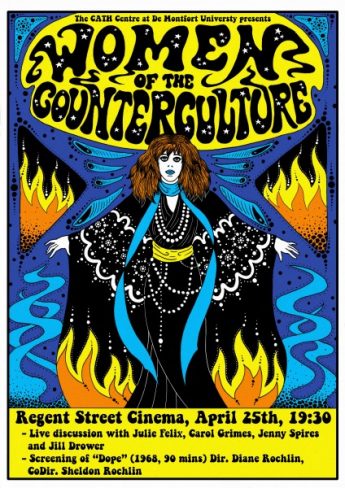 Whilst the revolutionary possibilities of the late 1960s often appear framed solely by male voices, stories and actions, CATH's Women of the Counterculture event at 7.30pm on the 25th of April at Regent Street Cinema, will offer a frank examination of the experience of creative women innovating and experimenting amidst the turbulent upheavals shaking London.
The evening will open with live discussion with some of the key women who were there – including: folk icon, activist and television presenter, Julie Felix; Jazz and Blues singer-songwriter, Carol Grimes; important countercultural figure, English Boy model and part of the Pink Floyd crew, Jenny Spires; artist and Exploding Galaxy member, Jill Drower.
The evening will finish with a rare screening of the evocative Dope (1968, 90 mins). This impressionistic study of a woman who turns to heroin use was co-directed and virtuosically-edited by American film-maker, Diane Rochlin (now Flame Schon), and shot in the haunts of Hippy London in 1967.
This event will be co-ordinated by Alissa Clarke (co-curator of CATH's Peter Whitehead Archive and co-producer of the 'Peter Whitehead Residency' at the Royal Albert Hall) and Sophia Satchell-Baeza (King's College London).
For further information, please email: a.clarke@dmu.ac.uk and see: https://www.regentstreetcinema.com/programme/women-of-the-counterculture/