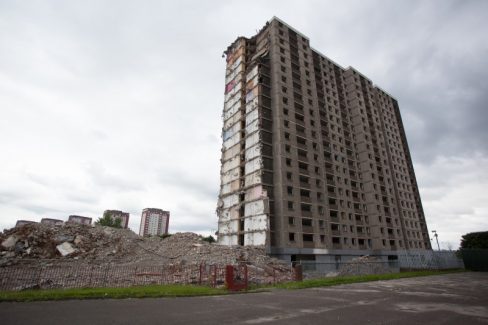 Dispossession: The Great Social Housing Swindle (2017) is a feature documentary directed by Paul Sng and narrated by Maxine Peake, exploring the catastrophic failures that have led to a chronic shortage of social housing in Britain.
The film focuses on the neglect, demolition and regeneration of council estates across the UK and investigates how the state works with the private sector to demolish council estates to build on the land they stand on, making properties that are unaffordable to the majority of people.
Dispossession is the story of people fighting for their communities, of people who know the difference between a house and a home, and who believe that housing is a human right, not an expensive luxury.
"A timely lecture on humanity." – The Times
"A carefully balanced, clear headed study of the myriad of ways the UK property market has skewed and malfunctioned." – The Guardian
"An important and timely film." – The Observer
"The housing crisis is one of our nation's biggest scandals and this film shows us it's deliberate. A must see independent film." – Michael Sheen
"Perhaps the most important British film since I, Daniel Blake." – The Big Issue
The film will be followed by a panel Q&A featuring director Paul Sng, Lisa McKenzie (author of Getting By), Pam Douglas (Cressingham Gardens), Sian Berry (London Assembly), Jamie Burton (Doughty Street Chambers) and Jasmin Parsons (housing campaigner).
Doors open at 18.30, for a 19.30 start.
Refreshments will be available in our licensed cafe/bar.
TICKETS & PRICING
Summer Season 2018 ticketing applies.
Advance tickets may be purchased from Billetto, or direct from the Museum by calling 020 7840 2200 in office hours.