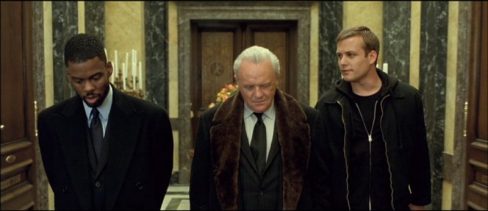 The final screening of the year in The Celluloid Sorceress' retrospective of Joel Schumacher is a rare opportunity to see the director's least-known film, Bad Company (2002). Chris Rock is a chess hustler turned government recruit and Anthony Hopkins is a spook handling a mission to intercept a dirty bomb to be detonated by Czech extremists at Grand Central Station.
One of 45 films affected by the terrorist attacks of September 11th, like other action movies with a terrorist theme such as Collateral Damage, Bad Company was shelved, reworked and released in the summer of 2002, six months later than originally intended. In a summer dominated by the heroic New York spirit of Spider-Man, action thrillers failed to connect with audiences for whom the plot felt far too real.
The last major film production to shoot inside the World Trade Centre, under other circumstances Bad Company may have taken up a place alongside the popular buddy-buddy action comedies of the era, such as Rush Hour (1998) or The Rock (1996).
Unavailable on blu-ray, The Celluloid Sorceress is excited to give the funny and exciting Bad Company an extremely rare outing on the big screen.
Introduced by Rebecca Nicole Williams with a vintage support programme by DEEP '00s!
The film will be screened in the downstairs cinema.
Doors open at 19.00, for a 19.30 start.
TICKETS & PRICING
Tickets £6.
Advance tickets may be purchased from Billetto, or direct from the Museum by calling 020 7840 2200 in office hours.
Season tickets £40 (£32.50 concessions) for all the Celluloid Sorceress Joel Schumacher films available from Billetto, or direct from the Museum.