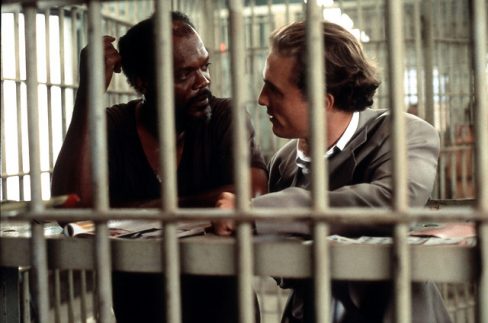 Winner of the NAACP Image Awards for Outstanding Motion Picture and Supporting Actor 1997, A Time to Kill (1996) follows director Joel Schumacher's Falling Down (1993) in its prescient examination of white privilege and justice in modern America.
Carl Lee Hailey (Samuel L. Jackson) doubts the legal system will serve justice upon the two white local men who rape and torture his daughter. After taking his revenge on the steps of the county courthouse with a shotgun he calls upon white friend and lawyer Jake Brigance (Matthew McConaughey) to defend him at his trial.
Preparing his case against the death penalty, Jake and his associates (Sandra Bullock, Oliver Platt and Donald Sutherland) come under attack from the Ku Klux Klan, while the trial becomes a media spectacle in scenes that could easily come from today's news.
As controversial as John Grisham's novel, which was partly inspired by Harper Lee's To Kill A Mockingbird and partly by the harrowing testimony of a 12 year old girl in a 1984 Mississippi trial, A Time to Kill asks questions both about vigilantism and the advantages granted or denied by the scales of American justice. After the success of Schumacher's adaptation of The Client (1994), A Time to Kill ranks as the most powerful and enduring of the Grisham cycle of the 1990s.
Introduced by Rebecca Nicole Williams with a selection of vintage 35mm trailers before the feature.
More titles in The Celluloid Sorceress' retrospective of the films of Joel Schumacher:
Doors open at 14.00, for a 15.00 start.
Refreshments will be available in our licensed cafe/bar.
TICKETS & PRICING
Tickets £10 (£7 concessions).
Advance tickets may be purchased from Billetto, or direct from the Museum by calling 020 7840 2200 in office hours.
Season tickets £40 (£32.50 concessions) for all the Celluloid Sorceress Joel Schumacher films available from Billetto, or direct from the Museum.