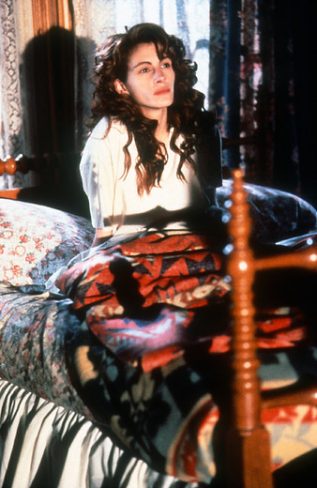 Before The Fault In Our Stars (2014) there was Dying Young (1991).
The Celluloid Sorceress returns to the Cinema Museum after D.C. Cab (1983) with another rare screening of a cult classic from Joel Schumacher, director of The Lost Boys (1987). Dying Young stars Julia Roberts, Campbell Scott, Vincent D'Onofrio, Colleen Dewhurst, Ellen Burstyn, and David Selby.
Reuniting with Flatliners (1990) star Julia Roberts, Schumacher brings his unmistakable talents to a story of living with leukaemia that startled audiences with its frankness and won them with its romance.
Roberts is Hilary, recently returned to her mother's house after dumping a cheating boyfriend. Taking a chance on an ad for a nurse, she becomes the live-in carer to 28-year old, educated and wealthy, Victor (Campbell Scott), much against the wishes of Victor's father.
Like The Fault in Our Stars, Dying Young came from a best-selling novel, and the big screen adaptation is produced by Sally Field following her collaboration with Roberts on Steel Magnolias (1989). While a traditional love story at heart, director Schumacher embraces his interest in urban cityscapes utilising Juan Ruiz-Anchia's daring camera and lighting to showcase San Francisco at its best.
Another box office hit for Schumacher, Dying Young took $82 million at the box office and screens here from a stunning digital transfer.
Introduced by Rebecca Nicole Williams with a vintage support programme by DEEP '90s!
More titles in The Celluloid Sorceress' retrospective of the films of Joel Schumacher:
The film will be screened in the downstairs cinema.
Doors open at 19.00, for a 19.30 start.
Refreshments will be available in our licensed cafe/bar.
TICKETS & PRICING
Tickets £6.
Advance tickets may be purchased from Billetto, or direct from the Museum by calling 020 7840 2200 in office hours.
Season tickets £40 (£32.50 concessions) for all the Celluloid Sorceress Joel Schumacher films available from Billetto, or direct from the Museum.