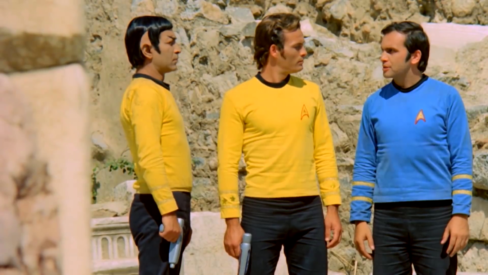 From Star Wars to Some Like It Hot, Remakesploitation proudly present a weekend festival devoted to the weird and wonderful world of Turkish remakes, digitally restored with all-new English subtitles.
Did you know that a Turkish remake of The Exorcist closely recreated the William Friedkin original albeit with the Catholicism replaced with Islam? Or that a Turkish reworking of Star Trek was filmed in the ancient ruins of Ephesus? For many years, these films only circulated in low-resolution bootlegs but they have now been lovingly digitally restored. There are no plans for us to release these films on Blu-ray, DVD or VOD, so make sure you grab this rare opportunity to see these truly fascinating films on the big screen.
All six screenings will have short introductions from invited special guests from Turkey, Germany and the USA, and we will also be having post-screening Q&As between the films.
We will also be providing complementary Turkish snacks for all ticket holders.
17.00 Remake, Remix, Rip-Off: About Copy Culture & Turkish Pop Cinema (2015) 1hr 36m
Remake, Remix, Rip-Off tells the bizarre history of 1970s and 80s Turkish remakes of Hollywood films like The Exorcist, E.T., Rambo, Superman, and Star Trek. Turkish-German filmmaker Cem Kaya's documentary charts this little-known period of film history with some truly incredible interviews and clips, highlighting the passion and dynamism that went into producing these remakes, and giving a genuine insight into this overlooked era of global exploitation film production. Followed by Q&A with Cem Kaya & Pete Tombs.
19.15 Turist Ömer Uzay Yolunda AKA Turkish Star Trek (1973) 1hr 11m
Directed by Hulki Saner, this is technically the first Star Trek feature film, preceding Star Trek: The Motion Picture by six years, this hilarious parody of the Star Trek series closely recreates the Man Trap episode from the original series. Starring Turkish comedy legend Sadri Alişik in the central role of Turist Ömer, the film follows his adventures with Kirk and Spock as they investigate a series of mysterious deaths on an alien planet – actually shot in the ancient ruins of Ephesus. Followed by Q&A with Nezih Erdoğan and Savaş Arslan.
21.00 Dünyayı Kurtaran Adam AKA Turkish Star Wars (1982) 1hr 38m
Notorious for the ways in which director Çetin İnanç edited footage from Star Wars into his own film, along with music from Raiders of the Lost Ark and Flash Gordon, Dünyayı Kurtaran Adam is the holy grail of remakesploitation cinema. For many years, the film circulated only in low-resolution bootleg copies but in 2016 a 35mm print of the film was discovered and a digital scan has been made so that the world can finally see the film the way it was intended.
Our special guests speakers are: Cem Kaya (Director of Remake, Remix, Rip-off), Pete Tombs (Author of Mondo Macabro), Ed Glaser (Author of How the World Remade Hollywood), Rob Hill (Author of The Bad Movie Bible), Ahmet Gürata (Author of Imitation of Life: Cross Cultural Reception and Remakes in Turkish Cinema), Nezih Erdoğan (Author of The First Years of Cinema in Istanbul), Savaş Arslan (Author of Cinema in Turkey), and Tuğçe Bıçakçı Syed (Author of Theorising Turkish Gothic).
This event is supported by the Yunus Emre Institute in London, Turkish Airlines, and King's College London.
Doors open at 16.30 for a 17.00 start.
Details of the Sunday programme here.
Tickets & Pricing
Weekend Ticket £30 / One Day £20 / Individual film £8. Tickets bookable here.