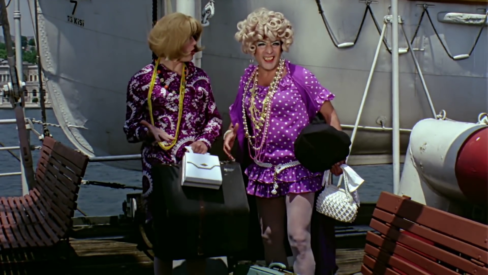 From Star Wars to Some Like It Hot, Remakesploitation proudly present a weekend festival devoted to the weird and wonderful world of Turkish remakes, digitally restored with all-new English subtitles.
Did you know that a Turkish remake of The Exorcist closely recreated the William Friedkin original albeit with the Catholicism replaced with Islam? Or that a Turkish reworking of Star Trek was filmed in the ancient ruins of Ephesus? For many years, these films only circulated in low-resolution bootlegs but they have now been lovingly digitally restored. There are no plans for us to release these films on Blu-ray, DVD or VOD, so make sure you grab this rare opportunity to see these truly fascinating films on the big screen.
All six screenings will have short introductions from invited special guests from Turkey, Germany and the USA, and we will also be having post-screening Q&As between the films.
We will also be providing complementary Turkish snacks for all ticket holders.
16.00 Fıstık Gibi AKA Turkish Some Like It Hot (1970) 1hr 15m
Never before subtitled into English, Fıstık Gibi is actually the second Turkish film to rework Billy Wilder's Some Like It Hot after an earlier black-and-white attempt in 1964. Starring Turkish Cypriot actress Feri Cansel in the role made famous by Marilyn Monroe, this was directed by one of the true legends of Turkish remakesploitation, Hulki Saner, who not only directed reworkings of Star Trek and Some Like it Hot, but was also producer on the remake of The Exorcist. Followed by Q&A with Ahmet Gürata and Ed Glaser.
18.00 Cellat AKA Turkish Death Wish (1975) 1hr 20m
Directed by Memduh Ün and stylishly shot and with a charismatic central performance from Serdar Gökhan in the Charles Bronson role, Cellat transfers the iconic Death Wish revenge narrative from New York to Istanbul. Perhaps the most professionally produced of all the Turkish remakes, Cellat follows Gökhan as he takes his vengeance on a series of low-life criminals – with increasingly elaborate methods of execution. Followed by Q&A with Tuğçe Bıçakçı Syed and Rob Hill.
20.00 Şeytan AKA Turkish Exorcist (1974) 1hr 40m
Şeytan is a near shot-for-shot remake of The Exorcist but with the original's Catholicism replaced with Islam – necessitating some fascinating changes to the plot and iconography. Director Metin Erksan is one of the most celebrated Turkish filmmakers, winning the Golden Bear at Berlin for his earlier film Dry Summer (1964), but here he sticks fairly close to William Friedkin's template, even making use of Mike Oldfield's Tubular Bells on the soundtrack.
Our special guests speakers are: Cem Kaya (Director of Remake, Remix, Rip-off), Pete Tombs (Author of Mondo Macabro), Ed Glaser (Author of How the World Remade Hollywood), Rob Hill (Author of The Bad Movie Bible), Ahmet Gürata (Author of Imitation of Life: Cross Cultural Reception and Remakes in Turkish Cinema), Nezih Erdoğan (Author of The First Years of Cinema in Istanbul), Savaş Arslan (Author of Cinema in Turkey), and Tuğçe Bıçakçı Syed (Author of Theorising Turkish Gothic).
This event is supported by the Yunus Emre Institute in London, Turkish Airlines, and King's College London.
Doors open at 15.30 for a 16.00 start.
Details of the Saturday programme here.
Tickets & Pricing
Weekend Ticket £30 / One Day £20 / Individual film £8. Tickets bookable here.