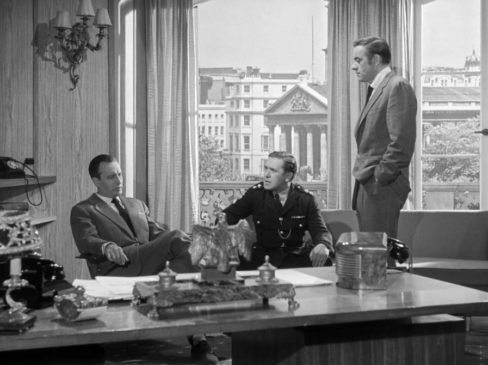 Network Distributing premieres four new remasters of long unseen but notable crime thrillers produced by the Danziger Brothers in the early days of ITV.
Mark Saber, played by Donald Gray, who later found renewed fame as the voice of Colonel Gray in 'Captain Scarlet', was the unlikeliest of TV detectives. His distinguishing feature was that he had only one arm: possibly the most unusual pitch for a fledging national television station seeking to fill its schedules with bold new programmes. Saber's detective skills are never really qualified. His skills at driving a Porsche around Parliament Square, on the other hand… He features in two episodes to be shown tonight: firstly in his own series 'Saber of London' and then as a part of an anthology of crime thrillers aimed primarily at the lucrative US market, 'The Vise', unseen in the UK under that title.
These neat little crime stories became a breeding ground for actors, writers and directors eagerly awaiting a break in what was, with the advent of ITV, a burgeoning talent market. The shows provided early work for, among many others, Ray Austin, Michael Caine, Patrick McGoohan, Richard Lester and Francis Matthews. One episode in this line up even features an appearance by Shaw Taylor – this time on the wrong side of the law.
The penultimate Danziger series, The Cheaters, made in 1961, was slightly more ambitious. Led by American actor John Ireland, the 39 episodes made good use of the streets of London and featured a jazzy soundtrack by Bill le Sage. All good ingredients, you might think, for a successful run, yet the series had a fragmented screening history on ITV and it isn't as well remembered. The last record of it being seen anywhere in the UK is in the Channel and Westward tv regions in the early 70s, so tonight's screening is the first time in more than fifty years that an episode has been shown.
The four episodes being screened are all early Brian Clemens stories, newly remastered from 35mm film elements.
Saber of London : Death by Delayed Payment
Written by Brian Clemens
Directed by Max Varnel
Guest stars Philip Saville, Ronald Leigh Hunt
The Vise : Bullets For Saber
Written by Brian Clemens
Directed by Ernest Morris
Guest stars Robert Ayres, Shaw Taylor
The Vise : Never Let Me Down
Written by Brian Clemens
Directed by David Macdonald
Introduced by Ron Randell
The Cheaters : Time to Kill
Written by Brian Clemens
Directed by Frank Marshall
Guests stars Peter Butterworth, John Bennett
Doors open at 18.30, for a 19.30 start.
Refreshments will be available in our licensed cafe/bar.
TICKETS & PRICING
Tickets £8.
Advance tickets may be purchased from Ticketlab, or direct from the Museum by calling 020 7840 2200 in office hours.