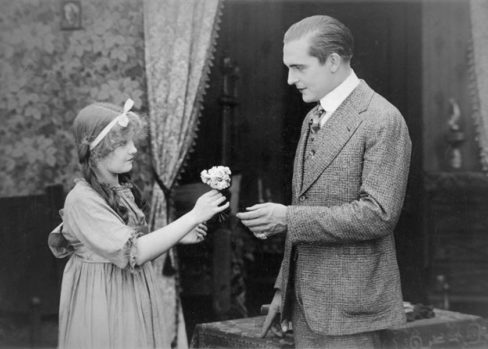 The Kennington Bioscope is a regular cinema event featuring live accompaniment to silent films that takes place at the Cinema Museum.
Old Heidelberg (1915), directed by John Emerson and starring Dorothy Gish, Wallace Reid, Karl Formes Jr. and Erich von Stroheim.
Chris Bird will be presenting a 16mm print from his own collection.
Prince Karl Heinrich (Wallace Reid), heir to the throne of Rutania, is isolated and lonely throughout his childhood and teenage years. The King, his father, denies him the companionship of other children who are considered below his station. His only companion and comfort is his faithful tutor, Dr. Juttner (Karl Formes Jr.).
The film is based on an 1899 novel, Karl Heinrich, by Wilheim Meyer-Forster and on theatrical versions of the book. In 1924, a musical version, The Student Prince, was written by Dorothy Donnelly and Sigmund Romberg. Ernst Lubitsch directed a further silent film version in 1926, The Student Prince of Old Heidelberg, with Ramon Navarro and Norma Shearer.
Wallace Reid and Dorothy Gish had been in films several years and were established with film audiences. Their acting, natural and tender, is emotionally correct. Erich von Stroheim, recently arrived from Austria and billed fourth, plays the valet energetically and ramrod stiff; the role fits him perfectly. Von Stroheim provided advice on the details of military dress and comportment. Reid's stardom was tragically short. He became addicted to morphine, prescribed to treat an injury; his attempts to break his addiction were unsuccessful. Late in 1922, his health declining, Reid entered a sanatorium where he died January 18, 1923, age 31 yrs.
For the supporting programme, Chris has selected from his own collection, short films about filmmaking, which promises to be a lot of fun!
Colin Sell is unwell, so John Sweeney will be accompanying Old Heidelberg and the supporting programme.
Silent film with intertitles which may be suitable for the deaf and hard of hearing.
Tickets & Pricing
£7. Seats are limited, so please arrive early or request an invitation using the email kenbioscope@gmail.com.