The Kennington Bioscope is a regular cinema event featuring live accompaniment to silent films that takes place at the Cinema Museum.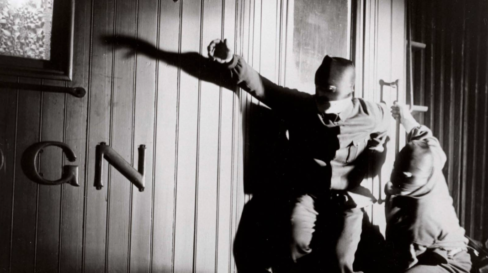 Thin Ice/Bergenstoget plyndret i natt (1928), directed by Uwe Jens Krafft. This is screened from a BFI 35mm print.
Thin Ice is known in Norwegian as Bergenstoget plyndret i natt (The Bergen Train Looted Last Night) and was adapted by Alf Rød from the 1923 novel of that name written by Nordahl Grieg and Nils Lie under the joint pseudonym `Jonathan Jerv'. Directed by Uwe Jens Krafft and with German actors Aud Egede-Nissen and Paul Richter in the leading roles, Thin Ice is the story of a student embarking on a daring raid on a train passing through the mountain scenery from Oslo to Bergen. His motivation: having obtained a job as advertising executive with the railway company and seeking the hand of the boss's daughter, he hopes to confirm his chances with both by staging the robbery – but is this merely a publicity stunt, or something more? The extensive Norwegian outdoor scenes were photographed by Paul Berge and Johannes Bentzen; interiors were shot by Günther Krampf in the EFA and UFA studios in Berlin (the film was released in Germany as Schneeschuhbanditen). Thin Ice was Norway's first true attempt at an international film success and fulfilled its promise; even without promotion over 100,000 Norwegian cinemagoers saw the film, which was subsequently exported to 11 countries.
A programme of silent shorts makes up the first part of the evening, which features live piano accompaniment throughout.
Silent film with intertitles which may be suitable for the deaf and hard of hearing.
Tickets & Pricing
£7. Seats are limited, so please arrive early or request an invitation using the email kenbioscope@gmail.com.