The Kennington Bioscope is a regular cinema event featuring live accompaniment to silent films that takes place at the Cinema Museum.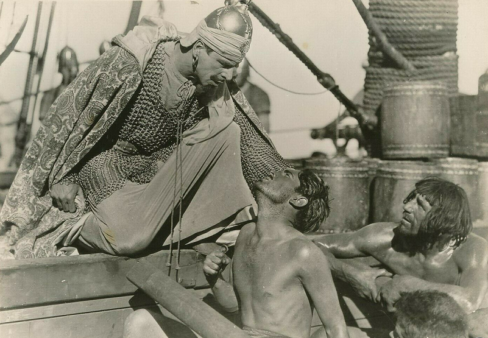 The Sea Hawk (1924), directed by Frank Lloyd, and starring Milton Sills, Enid Bennett, Lloyd Hughes and Wallace Beery.
Based on Rafael Sabatini's 1915 novel, The Sea Hawk was adapted for the screen by J.G. Hawks and produced and directed by Frank Lloyd. The story – about an English baronet (Milton Sills) who is framed for murder by his half-brother (Lloyd Hughes), becomes a galley slave then escapes to reinvent himself as the buccaneering `Sakr-el-Bahr' – is set amid the high-seas piracy of the late 16th century. Aware that audiences had learned to recognise the use of scale models, Lloyd spent $200,000 for the construction of authentic-looking sea vessels, hiring Buster Keaton's prop designer Fred Gabourie – who had previously built replicas of Stephenson's Rocket and a hobby-horse bike for Keaton's Our Hospitality – to create wooden cladding that would convert modern ships into those suitable for the period setting. The results were so convincing (the New York Times considered it `far and away the best sea story that's yet been done up to that point') that Warner Brothers subsequently re-used the footage in the Errol Flynn vehicles Captain Blood (1935) and the nominal remake of The Sea Hawk in 1940. Filming of these scenes took place off Catalina Island, with 150 tents supplied for the use of 1,000 extras, 21 technicians, 14 main actors and 64 sailors. The Sea Hawk also stars Enid Bennett, Wallace Beery and Marc McDermott.
A programme of silent shorts makes up the first part of the evening, which features live piano accompaniment throughout.
Silent film with intertitles which may be suitable for the deaf and hard of hearing.
Tickets & Pricing
£7. Seats are limited, so please arrive early or request an invitation using the email kenbioscope@gmail.com.