The Kennington Bioscope is a regular cinema event featuring live accompaniment to silent films that takes place at the Cinema Museum.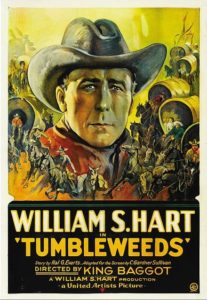 Tumbleweeds (1925), directed by King Baggot, and starring and produced by William S. Hart. It depicts the Cherokee Strip land rush of 1893. The film is said to have influenced the Oscar-winning 1931 Western Cimarron, which also depicts the land rush.
Set in Caldwell, Kansas on the Kansas-Oklahoma border, the movie features cowboy Don Carver (Hart) as a "tumbleweed" (i.e., a drifter) who decides to settle down after falling in love with Molly Lassiter (Barbara Bedford). Carver decides to get in on the Cherokee Strip land rush but when he's arrested and parted from his new love, he's in danger of missing the big race.
PLUS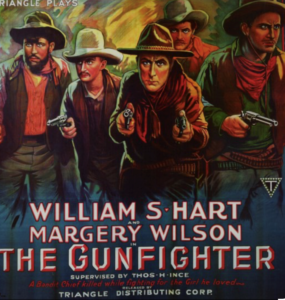 The Gunfighter (1917), directed by and starring William S. Hart. The UK premiere of a new reconstruction of this previously lost film, combining an incomplete original nitrate print with two 9.5mm copies. Produced by historian and editor Christopher Bird together with Kevin Brownlow, with recreated title cards by Fritzi Kramer.
Cliff Hudspeth (Hart), the leader of a band of outlaws in Arizona, has a long list of kills to his name. He is reformed by the local seamstress (Margery Wilson), but must be prepared to kill again when the town is threatened by a rival bandit's gang. Future stars John Gilbert and Alice Terry are rumoured to be among the extras.
This reconstruction was premiered at Pordenone in 2019, but has since been upgraded with new scans of the 9.5mm prints and some additional title cards.
Both films will feature live piano accompaniment.
Silent film with intertitles which may be suitable for the deaf and hard of hearing.
Tickets & Pricing
£7. Seats are limited, so please arrive early or request an invitation using the email kenbioscope@gmail.com.