The Kennington Bioscope is a regular cinema event featuring live accompaniment to silent films that takes place at the Cinema Museum.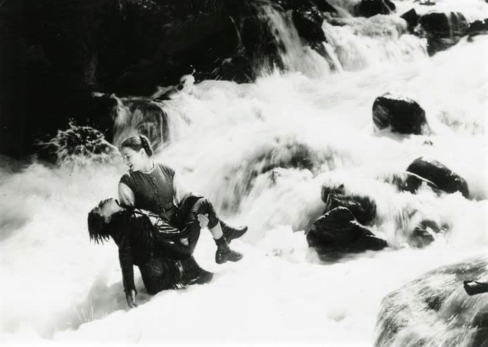 Faces of Children/Visages d'enfants aka Mother (1925), a French-Swiss production directed by Jacques Feyder.
A psychological drama set within Switzerland's mountainous Haut-Valais region, Faces of Children was directed by Jacques Feyder, assisted by his actress wife, Françoise Rosay. They wrote the screenplay with Dimitri De Zoubaloff, who co-produced the film with Arthur-Adrien Porchet. The Lausanne-based producers had commissioned Feyder to make a film and he offered them the story of Faces of Children, about the estrangement of a small boy from his father and sister after his mother dies, a situation that worsens when he finds himself with a new stepmother and stepsister. The film benefits greatly from the central performance of child actor Jean Forest, whom Feyder and Rosay had discovered in the streets of Montmartre and used in a previous film, Crainequebille (screened at KB in 2014). The same applies to the camera work – notably a torchlight search genuinely shot at night, against the usual custom – by Abel Gance associate Léonce-Henri Burel. Many of the extras were the real-life villagers from the Haut-Valais location. Feyder shot interiors at Joinville while Rosay continued the location filming. Although production took place between May and October 1923, the release of Faces of Children was delayed until early 1925 owing to a dispute between Feyder and distributors Les Grands Films Indépendants. Although not a commercial success at the time, Faces of Children drew appreciation from critics and was eventually regarded as a landmark of realism in silent film.
A programme of silent shorts makes up the first part of the evening, which features live piano accompaniment throughout.
Silent film with intertitles which may be suitable for the deaf and hard of hearing.
Tickets & Pricing
£7. Seats are limited, so please arrive early or request an invitation using the email kenbioscope@gmail.com.