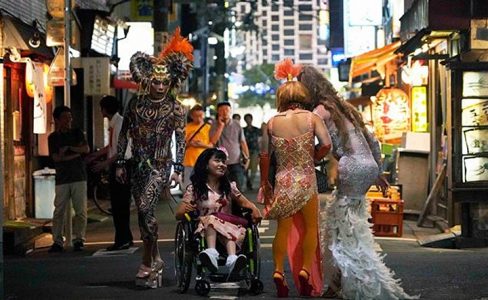 As we enter the summer months, South Social Film Festival will continue to run our Sunday Cineclub, every 2 weeks at 8pm. On Sunday 21st June, immerse yourself in Japan. Sunday Cineclub are partnering with the Embassy of Japan and Japan-UK Season of Culture 2019-2020, to present 37 Seconds (2019), by Hikari. Join them for the screening and a live Q&A with Hikari after the film.
37 Seconds tells the story of Yuma, a young woman with cerebral palsy who is trying to make a name for herself as an artist in a manga studio. When a magazine editor applauds Yuma's technical talent, but expresses concerns about her ability to depict sex in adult comics, she is advised to lose her virginity and then return. And so begins a journey of self-discovery, liberation and sexual experience.
Hikari born as Mitsuyo Miyazaki, produced Tsuyako (2011), and Where We Begin (2015), before writing and directing her debut feature 37 Seconds. When working on the script for 37 Seconds, Hikari would get herself into a wheelchair and go around her home town of Osaka to experience some of the challenges wheelchair users face. She found it to be more wheelchair friendly than Tokyo, where she experienced some unkindness which shone a light on how disabled people can be treated – particularly in a bustling city. Hikari has expressed joy about the film receiving a PG-12 rating in Japan, with hopes that it will educate young people about equality, unique challenges, and self-determination.
For further details, go to their website. To book tickets, go to their eventbrite page.
The Cinema Museum regularly plays host to the South Social Film Festival – they are another brilliant Cinema Museum-supported project that have taken their wonderful experiences online.