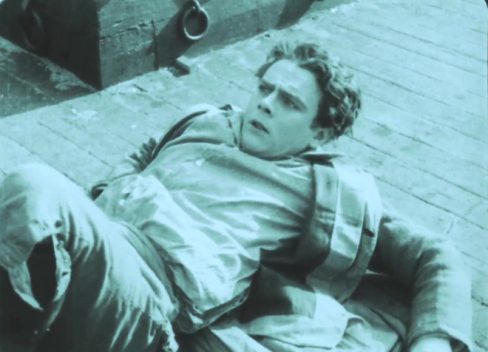 Kennington Bioscope online in association with Movies Silently, and courtesy of The Library Of Congress, present Kidnapped (1917), plus two short films from the EYE Filmmuseum, Amsterdam. Join us on June 24th at 19:30 BST (UTC+1, 20:30 CEST) at https://youtu.be/u-4K7qke4oM. This programme is FREE to view.
While you're waiting, please explore the channel and any of our previous broadcasts and premieres!
For Episode 5 of the KBTV online, the Kennington Bioscope presents the Edison Film Company's 1917 film of Kidnapped, Robert Louis Stevenson's "immortal story of adventure." The film is the earliest celluloid version to have been produced, based on the Scottish author's famed 'boys' novel', first published in serial form in 'Young Folks' magazine from May to July 1886. "In Scotland in 1751, young David Balfour is shanghaied aboard a ship where he meets Jacobite rebel Alan Breck with whom he escapes to the Scottish Highlands, dodging the redcoats…" The film was preserved and transferred by kind courtesy of the Library Of Congress, and we present it in association with Fritzi Kramer of US-based Movies Silently website, who researched and sourced the film, over-seeing and producing its limited home video release in 2018, crowdfunded via a successful Kickstarter campaign, with over 300 contributors receiving copies of a fine DVD package, designed by Ms Kramer, a graphic designer by trade. Christopher Bird, film collector, director and editor and also good friend and colleague to both the Bioscope, and Movies Silently, was the film's Associate Producer and Editor for this home release and has kindly assisted in the film's preparation, along with the Bioscope team, for this premiere online screening.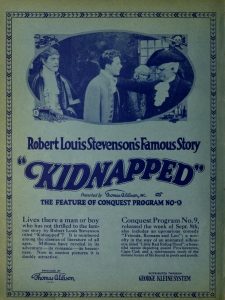 Kidnapped, directed by Alan Crosland (who would later helm The Beloved Rogue (1927), plus several other films starring John Barrymore, in addition to The Jazz Singer (1927) starring Al Jolson), stars Raymond McKee (David Balfour) and Robert Cain (Alan Breck) and was originally released as a standalone feature, re-released a few months later as part of an Edison theatrical package of short subjects and feature, under the Conquest Program imprint, this being number 9 in a series of 12. Both shorts and feature were included in the 2018 DVD home release, but for this event we proudly present the feature only. Kidnapped will be accompanied live by John Sweeney (his first time accompanying live online for KBTV).
The main feature will be preceded by two shorts from the Jean Desmet collection, courtesy of the Eye Filmmuseum, Amsterdam:
Robinet's White Suit (1911), starring comedy actor and writer Marcel Perez. Live accompaniment by Cyrus Gabrysch.
Il Pescara (The River Pescara) (1912). Costas Fotopoulos gives a specially pre-recorded accompaniment.
The broadcast will be hosted live by film historian Michelle Facey and we are delighted to be welcoming a very special guest to the show, Fritzi Kramer of Movies Silently, who, in addition to granting permission for our use of Kidnapped, has not only designed a super 'KB & MS' logo for the film, but will also generously present a specially pre-recorded introduction for the main feature.
Thanks as always to the Kennington Bioscope committee and friends, for their support and promotion of the show.
Subscribe (free) to the YouTube channel and turn notifications on, or join our mailing list to be notified about future shows.
While our home venue, the Cinema Museum in London, is closed, like other cinema and event venues, to keep people safe during the Covid-19 outbreak, we've relocated online. Help support our activities through our Ko-Fi account, if you can.