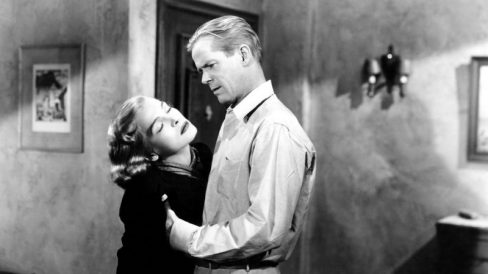 Kennington Noir presents Too Late For Tears (1949) directed by Byron Haskin, and starring Lizabeth Scott, Dan Duryea and Don DeFore.
One night on a lonely highway, a speeding car tosses a satchel of money meant for somebody else into Jane and Alan Palmer's back seat. Alan wants to turn it over to the police, but Jane (Lizabeth Scott), with luxury within her reach, persuades him to hang onto it "for a while." Soon, the Palmers are traced by one Danny Fuller (Dan Duryea), a cheap hood who claims the money is his. To hang onto the loot, Jane will need all the qualities of an ultimate femme fatale…and does she ever have them!
The racy script of Too Late For Tears was revised several times before the Production Code Administration passed it as fit to be filmed. Then, Joan Crawford was interested in playing Jane Palmer, but wanted too much money, so the part went to sultry-voiced Lizabeth Scott who turned in one of her best performances. A quintessential noir was the result. Don't miss Ken's film for March! Original poster tagline: "She Got What She Wanted… With Lies… With Kisses… With Murder!"
For more Lizabeth Scott, see our April 15th screening of Pitfall (1948).
Digital presentation. Plus supporting programme.
Doors open at 19.00, for a 19.30 start. If you want to see only the main feature, please arrive by 20.15 latest.
Refreshments will be available in our licensed cafe/bar.
TICKETS & PRICING
Tickets £6.
Advance tickets may be purchased from Ticketlab, or direct from the Museum by calling 020 7840 2200 in office hours.