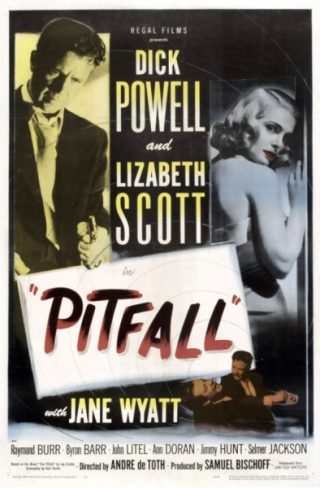 Kennington Noir presents Pitfall (1948), directed by Andre de Toth and starring Lizabeth Scott, Dick Powell and Raymond Burr.
Post-war American bliss is shaken up in this tale of the company man's discontent. By the time of this film's release, Dick Powell had already established himself in the dark streets of celluloid crime with films like Murder My Sweet (1944), Cornered (1945) and Johnny O'Clock (1947). Powell had the look of an everyday man, and it fits perfectly here in his role as Johnny Forbes, an insurance company claims investigator who is tempted into infidelity. Meanwhile Lizabeth Scott had considerable noir pedigree in films such as I Walk Alone (1947) and Dead Reckoning (1947), and Raymond Burr is perfect as a sleazy private investigator.
According to Madeleine Stowe, guest host on Turner Classic Movies, the production of Pitfall was in trouble because the script violated the Hayes Code: the adulterer was considered to be "insufficiently punished". When director De Toth found this out, he met with two senior Production Code Administration members whom he had selected with care. De Toth revealed that he knew the two were both married and that they both had mistresses. There were then no further problems.
Screening from a 35mm print. Plus supporting programme.
Doors open at 19.00, for a 19.30 start. If you want to see only the main feature, please arrive by 20.15 latest.
Refreshments will be available in our licensed cafe/bar.
TICKETS & PRICING
Tickets £6.
Advance tickets may be purchased from Ticketlab, or direct from the Museum by calling 020 7840 2200 in office hours.