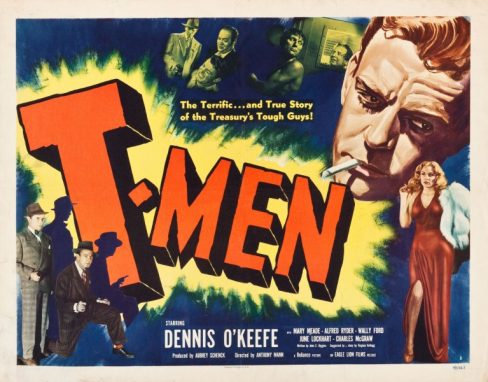 Kennington Noir presents T-Men (1947), directed by Anthony Mann and starring Dennis O'Keefe, Wallace Ford and Alfred Ryder.
Arguably, T-Men was the best of the "culled from the files of the FBI" style of "docu-noirs" popular in Hollywood after the financial success of Fox's wartime espionage thriller The House on 92nd Street (1945), directed by Henry Hathaway. Here, two U.S. Treasury agents (Dennis O'Keefe and Alfred Ryder) go undercover in Detroit and then Los Angeles in an attempt to break a U.S. currency counterfeiting ring. Among the film's most famous moments is the scene in which two-bit hood Wallace Ford is bumped off in a steam bath by sadistic hood Charles McGraw, not to mention the harrowing vignette wherein O'Keefe, posing as a crook, must stand by silently as his partner Ryder is murdered.
T-Men was the first of several collaborations between director Anthony Mann and the brilliant cinematographer John Alton. You will marvel at his use of highly stylised low angle camera shots, deep focus, and high contrast black-and-white cinematography. One of the finest examples of the film noir form, T-Men proved that a film didn't need to have a big budget, lush Technicolor and Clark Gable to score a hit with post-war moviegoers.
Screening from a 16mm print. Doors open at 18.30, for a 19.30 start.
Refreshments will be available in our licensed cafe/bar.
TICKETS & PRICING
Tickets £8.
Advance tickets may be purchased from Ticketlab, or direct from the Museum by calling 020 7840 2200 in office hours.