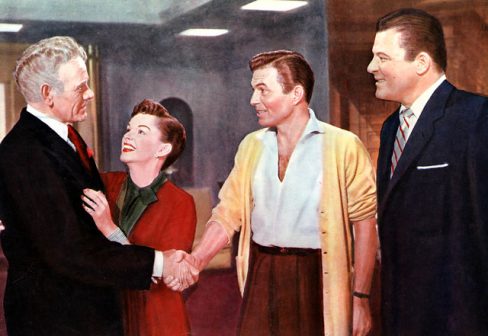 Musical Sunday opens its 2020 season with a screening of A Star is Born (1954), starring Judy Garland and James Mason.
A Star is Born, is the story of aspiring singer Esther Blodgett and former matinee idol Norman Maine, whose paths cross, affecting their lives, hearts and careers. The film features what many consider Judy Garland's greatest performance, as Esther, her voice soaring through classic tunes including 'Swanee' 'Someone at last' and 'The Man That Got Away'.
Based on the 1937 black and white A Star is Born film starring Janet Gaynor and Fredric March, its' themes have seen it remade ever since. In 2018 Lady Gaga and Bradley Cooper smouldered their way through the deep and shallow ends of love, success and the music industry. In the 70s, Barbra Streisand and Kris Kristopherson gave us their Evergreen tale of passion and the rise and fall of celebrity. However the 1954 Garland and Mason version is the definitive version. Directed in Cinemascope and lush Technicolor by George Cukor, the film was a return to the screen for Garland who had been released in 1950 from her contract with MGM. It proved a triumphant and critically acclaimed homecoming that resulted in Oscar nominations for both her and Mason, and a Best Original Song nomination for the Harold Arlen and Ira Gershwin penned number 'The Man That Got Away'.
Garland is currently back in the public consciousness due to Renee Zellweger's award winning performance in Judy. Come and enjoy the original star in her iconic inimitable fashion. Forget the worries of the world for a few hours, and brighten up your wintery Valentine's weekend with Musical Sunday.
Doors open at 13.00, and the film starts at 14.00.
Refreshments will be available in our licensed cafe/bar.
TICKETS & PRICING
Tickets £8. Screening in our downstairs cinema. Early booking advised.
Advance tickets may be purchased from Ticketlab, or direct from the Museum by calling 020 7840 2200 in office hours.