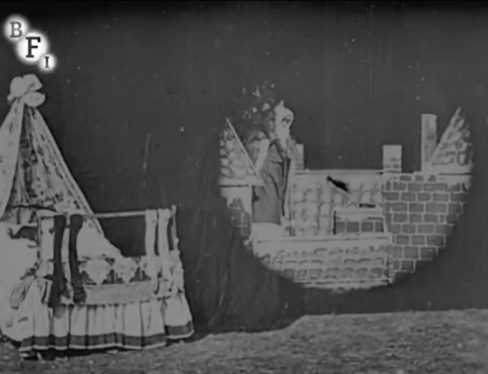 For Episode 13 of KBTV, Kennington Bioscope's KBTV is presenting a sumptuous seasonal selection box of silent cinema shorts with live music, free and open access worldwide on YouTube, at the KBTV channel.
Bringing some joy and good fellowship while saying 'so long' to this extraordinary year, along with our very special regular KBTV pianists, we'll also be playing host to some very special guest performers, setting your speakers a-sparkle with scores from: Philip Carli, Costas Fotopolous, Cyrus Gabrysch, Lillian Henley, Stephen Horne, Ben Model, Meg Morley, Colin Sell, José María Serralde Ruiz, Donald Sosin, John Sweeney, and Daan van den Hurk. What a line up!
Featuring a whole array of shorts of Winter and Christmas by the enormous generosity of EYE Filmmuseum and the British Film Institute (BFI), we're delighted to present a real frost fair, a visit to the north pole, a spooky game of hide and seek, and sagebrush holiday way out west. Expect snowballs, sledging, stockings, and a certain someone sporting a substantial sack of stuff, with the party led by your hostess with the most-ess, Michelle Facey, and a very active party chatbox if you're so inclined!
Here's the line-up of films, with the accompanists:
Holland in Ijs (NL 1917) – Scenes from the Netherlands in what was an extremely cold winter for them – Daan van den Hurk
Expedition to the North Pole (USA 1916) – Animated adventure by airship to the frozen North – Cyrus Gabrysch
Il Natale di Cretinetti (IT 1909) – Early film comedian André Deed wreaks havoc with an outsize Christmas tree – José María Serralde Ruiz
Ida's Christmas (USA 1912) – Dolores Costello and John Bunny star in this heart-warming tale from the Vitagraph studios – Colin Sell
Snowstorm in New York (NL 1926?) – A blizzard paralyzes Manhattan – Ben Model
Scrooge; or Marley's Ghost (UK 1901) – R.W. Paul's early and ingenious depiction of Dickens' seasonal story – Meg Morley
Snowballs (UK 1901) – Schoolboy scamps besiege passers-by with handfuls of the cold white stuff – Lillian Henley
Santa Claus (UK 1898) – The wonder of Christmas. British filmmaker G.A. Smith's film features his children and wife Laura Bayley – Stephen Horne
The Little Match Girl (UK 1914) – Percy Nash directs this, the second British adaptation of Hans Christian Andersen's heartrending story – Donald Sosin
The Mistletoe Bough (UK 1904) – An unlucky bride is locked in a trunk in this early film – Costas Fotopoulos
Broncho Billy's Christmas Dinner (USA 1911) – Villainous Broncho Billy finds himself accidentally invited to the Sheriff's home for the festive repast – Philip Carli
Santa Claus and the Fairy (UK 1898) – Have you been naughty or nice? Stockings at the ready! – John Sweeney
Films or accompanists are subject to change. Look out for additional surprise guest appearances on the night!
While you're waiting, please subscribe (free) to the channel to keep up to date with future streams, and/or check out our previous live streams at https://www.youtube.com/kenningtonbioscope.
Thanks as always to the Kennington Bioscope committee and friends, for their support and promotion of the show.
Subscribe (free) to the YouTube channel and turn notifications on, or join our mailing list to be notified about future shows.
While our home venue, the Cinema Museum in London, is closed, like other cinema and event venues, to keep people safe during the Covid-19 outbreak, we've relocated online. Help support our activities through our Ko-Fi account, if you can.