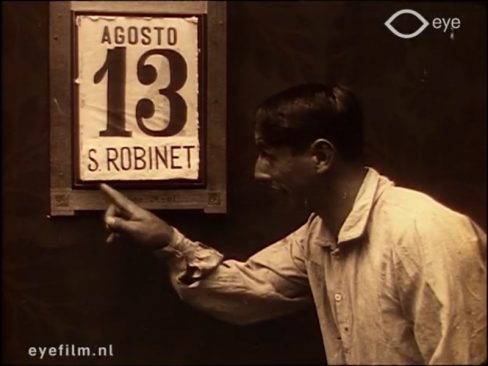 Welcome to Episode 12 of KBTV, the Kennington Bioscope online streaming for free via YouTube! The team brings you a programme of 'Comedy and Colour', with nine short films shown by kind courtesy of the Jean Desmet Collection and EYE Collections held by the Netherlands' EYE Filmmuseum. Films will be accompanied live by John Sweeney and Costas Fotopoulos with pre-recorded accompaniment from Lillian Henley and Colin Sell. The show will be presented live by regular host Michelle Facey.
Robinet Pescatore (Robinet the Fisherman) (IT 1914) – The first of two films in this episode by one of our favourite comedy pranksters, Marcel Perez. Here we see the renowned Robinet character given a present of a fishing rod by his wife for his saint's name day.
Coloured Views – Pontalier and Niort (FR 1924-5) – Scenic with shots of the Pontalier Mountains and of the village of Niort and surrounding areas.
Les Glaces Marveilleuses (Magic Mirrors) (FR 1908) – Trick film by Segundo de Chomón starring his wife and creative collaborator, Julienne Mathieu.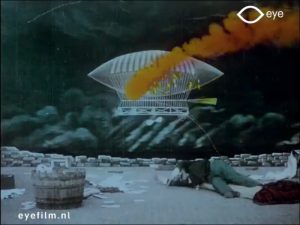 Le Dirigeable Fantastique (FR 1906) – Georges Méliès plays an inventor whose plans for an airship run amok in his sleep.
Le Voyage sur Jupiter (FR 1909) – Another from Segundo de Chomón with a colourful tale about a king who dreams he climbs a ladder to the planet Jupiter.
The Paper Bee (? 1920) – A short film about various insects, such as the "paper bee", the Crioceris (a sheath-winged insect) and the phrygana.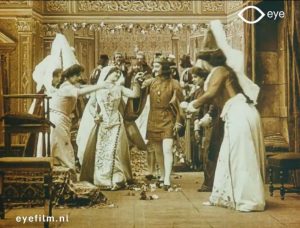 Amour de Page (FR 1911) – A story set in the Middle Ages. A page and the daughter of a baron want to marry each other against the will of her father.
La Legende des Ondines (Legend of the Sirens) (FR 1911) – Short fairy tale in which a young prince falls under the spell of a siren while taking a walk along the beach with his fiancée.
Madamigella Robinet ('Miss' Robinet) (IT 1913) – Our second film from Marcel Perez. Robinet is almost caught by his mistress's husband. He hides and dresses up as a woman so he won't be recognised. However, he accomplishes this disguise a little too well…
Join us for a fun-packed show with live and pre-recorded piano accompaniment (including piano-cam!), plus live film introductions.
Thanks as always to the Kennington Bioscope committee and friends, for their support and promotion of the show.
Subscribe (free) to the YouTube channel and turn notifications on, or join our mailing list to be notified about future shows.
While our home venue, the Cinema Museum in London, is closed, like other cinema and event venues, to keep people safe during the Covid-19 outbreak, we've relocated online. Help support our activities through our Ko-Fi account, if you can.