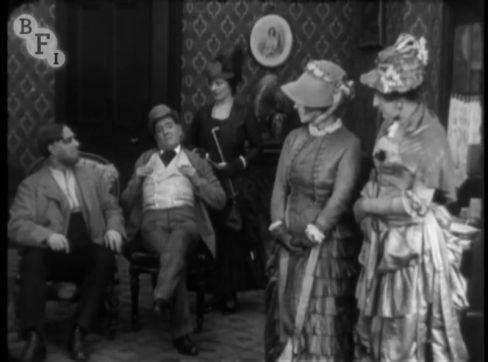 Kennington Bioscope online present Hobson's Choice (1920), courtesy of the British Film Institute. Join us on July 22nd at 19:30 BST (UTC+1, 20:30 CEST) at https://www.youtube.com/watch?v=5ou2bpXCuBg. This programme is FREE to view.
While you're waiting, please explore the channel and any of our previous broadcasts and premieres!
For the 7th episode in this continuing series of KBTV – the Kennington Bioscope livestream screenings via YouTube – we are delighted and proud to bring you a first online presentation from our own National Archive, Hobson's Choice, showing by kind courtesy of the BFI (British Film Institute), with live piano accompaniment.
This is the first of three big screen adaptations of the story about a 19th Century Salford businessman, Henry Hobson, a tyrannical bootmaker and widower with a penchant for the pub, who has three daughters, one of whom, Maggie, a practical woman, wishes to marry his best bootmaker, Will Mossop. They leave and set up their own shop and start to further impact the life of Henry and his remaining two daughters. The film, directed by Percy Nash, is based on the 1916 play by Harold Brighouse, and was the only silent film version produced. Arthur Pitt plays Henry Hobson, Joan Ritz, wife of the director, plays Maggie Hobson and Will Mossop is portrayed by Joe Nightingale, therein reprising his stage role of 1916.
Due to the running time of the film (approx. 73mins) there will be no supporting films. The broadcast will be hosted and introduced live by Michelle Facey. Hobson's Choice will be accompanied live by Cyrus Gabrysch.
Thanks as always to the Kennington Bioscope committee and friends, for their support and promotion of the show.
Subscribe (free) to the YouTube channel and turn notifications on, or join our mailing list to be notified about future shows.
While our home venue, the Cinema Museum in London, is closed, like other cinema and event venues, to keep people safe during the Covid-19 outbreak, we've relocated online. Help support our activities through our Ko-Fi account, if you can.