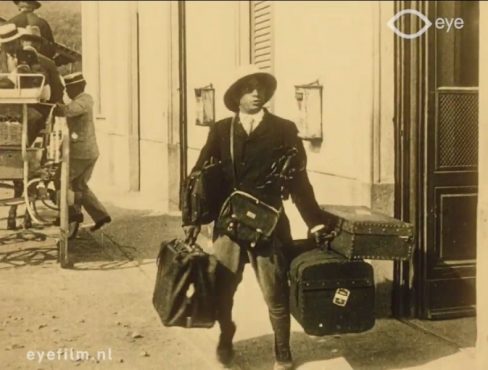 Join us on August 5th at 19:30 BST (UTC+1, 20:30 CEST) for the 8th Kennington Bioscope KBTV livestream, a programme of travelogue shorts, plus two films with an Italian setting.
This programme is FREE to view.
Whilst global travel remains restricted, and holiday plans for many have had to be postponed, rescheduled or rerouted, we will be taking a vicarious voyage, travelling with first-class films, across the Mediterranean, seen through the lens of a selection of European travelogues, plus a Vitagraph drama, directed by and starring Maurice Costello and Clara Kimball Young, shot on location in Venice and an Italian comedy which sees Robinet, played by the multi-pseudonymous Marcel Perez, attempting to take his vacation. All the films in this episode are held in the archive of the EYE Filmmuseum and Jean Desmet Collection and are showing by their kind courtesy and with the invaluable assistance of curator Elif Rongen-Kaynacki.
La perle de la Mediteranee: Barcelona (FR 1913)
Constantine (FR 1913)
Egypte (FR 1910?)
Turkije (FR 1915)
Beelden uit Piraeus (GR or NL? 1920)
The Lonely Princess (USA 1913)
Robinet in Vacanza (IT 1912)
And for this edition, with our greatest number of films in one show so far, we also have the pleasure of welcoming a truly fulsome company of players! Accompanying the films in both live and specially pre-recorded segments, will be Cyrus Gabrysch, Lillian Henley, John Sweeney and Costas Fotopoulos. The show will be hosted and introduced live via Skype by film historian Michelle Facey.
While waiting for the big day, catch up on the other videos on the channel at https://www.youtube.com/kenningtonbioscope.
Thanks as always to the Kennington Bioscope committee and friends, for their support and promotion of the show.
Subscribe (free) to the YouTube channel and turn notifications on, or join our mailing list to be notified about future shows.
While our home venue, the Cinema Museum in London, is closed, like other cinema and event venues, to keep people safe during the Covid-19 outbreak, we've relocated online. Help support our activities through our Ko-Fi account, if you can.