Kennington Bioscope are pleased to present another screening on their YouTube channel with two light comedy shorts with a social distancing theme, courtesy of the Eye Filmmuseum, Amsterdam. Web event in association with The Kennington Bioscope and The Cinema Museum, Kennington, London, closed like other arts spaces for the duration of the Covid-19 outbreak.
You can access the YouTube channel here.
The premiere screening goes live at 19:30 BST (UTC+1) on Wednesday May 13 2020. If you're logged in, you can comment along with the screening in the chat box on the right; or hide the box and go fullscreen to avoid any distraction. Click 'subscribe' and then the bell symbol next to it to keep up to date on future uploads, and follow the Kennington Bioscope and the Cinema Museum on Twitter for the latest news and links.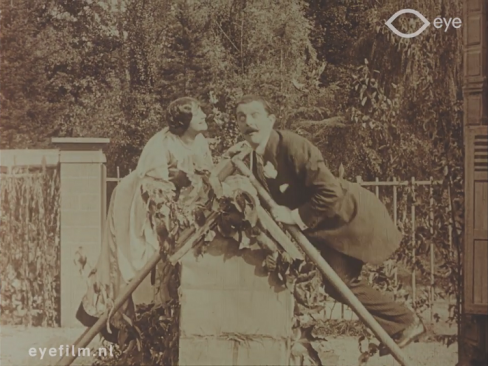 Gontran et la voisine inconnue (Gontran and the unknown neighbour) (France, 1913).
Gontran (René Gréhan) is so obsessed with playing the piano that he completely neglects his wife Arlette (or Alida as she is called in the Dutch intertitles). She moves to a house within hearing distance and begins to take piano lessons. Gontran is entranced by the music and starts courting this mysterious and talented neighbour from behind the garden fence, much to her satisfaction.
Gréhan (dates unknown) seems to have been a very prolific stage actor in the early 1900s at various theatres, including the Grand Guignol,"where five or six times an evening he switches between both tragic and comic roles with equal ease" (according to Film-Revue no. 13, 1913). Employed by Pathé as early as 1906, he moved to Éclair and was featured as the comic character Gontran between 1910 and 1913, when he was compared to Max Linder: "As played by Gréhan, (…) Gontran is an anxious, overconfident bourgeois type not unlike Max — and his polished style of performance and facial appearance (large eyes, hair parted in the middle, and thin moustache) do remind one of Linder." (Richard Abel, The Ciné Goes to Town: French Cinema, 1896-1914). In the United States, the series was first released using the Gontran name, but was changed to "Nutty" between 1913-14. Notes courtesy of Elif Rongen-Kaynakçi.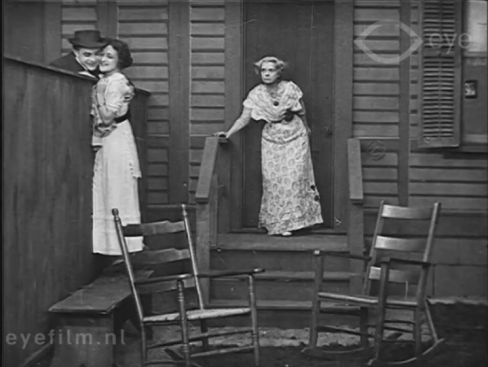 Over the Back Fence (USA, 1913)
Directed by C.J. Williams, a prolific producer of silent shorts between 1910 and 1916, and written by Marion Carr.
Colonel Crompton (William Wadsworth), a bachelor, and his nephew, Charles (Harry Beaumont), live in a house adjoining that of Matilda Scraggs (Alice Washburn), an old maid, whose niece, Nell (Bessie Learn), is very much in love with the bachelor's nephew. The old folks are neighbourly neighbours until one day the colonel's dog bites the old maid's cat and the trouble begins.
Both films come from the Jean Desmet collection, and thanks to the continued kindness and generosity of Eye Filmmuseum, Amsterdam. Other films may be added. Piano accompaniment will be provided from the Bioscope's regular musicians, and introductions on the films from historian Michelle Facey.