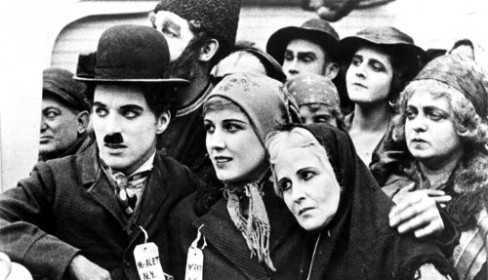 Kennington Bioscope presents a pre-recorded talk by film historian David Trigg, illustrating how Charlie Chaplin drew upon his childhood haunts in South London when seeking ideas for locations and building his film sets in Hollywood. This is screening on their YouTube channel. Web event in association with The Kennington Bioscope and The Cinema Museum, Kennington, London, closed like other arts spaces for the duration of the Covid-19 outbreak.
You can access the YouTube channel here.
The premiere screening goes live at 19:30 BST (UTC+1) on Wednesday May 20 2020. If you're logged in, you can comment along with the screening in the chat box on the right; or hide the box and go fullscreen to avoid any distraction. Click 'subscribe' and then the bell symbol next to it to keep up to date on future uploads, and follow the Kennington Bioscope and the Cinema Museum on Twitter for the latest news and links. A preview of the talk is available here.
Avid Chaplin fans can learn about how the comic legend searched for suitable locations and built sets according to locations remembered from his South London childhood – including one resembling the building which now houses the Cinema Museum, the old Lambeth Workhouse, where Charlie and his family were once forced to reside. With colour slides of existing South London locations, appropriate Chaplin shorts showing the Hollywood equivalents and piano accompaniment from Lillian Henley. Chaplin's words read by Martin Humphries of the Cinema Museum. The talk was recorded at the Cinema Museum in 2011, and edited with the PowerPoint presentation visuals and film excerpts by Bob Geoghegan.
The talk will be preceeded by an 'overture' of sorts, in the form of a screening of La Suisse merveilleuse (1913), a non-fiction short (3 mins) of a boat journey around Lake Maggiore in Switzerland. Kindly supplied by the EYE Filmmuseum, Amsterdam, from the Jean Desmet collection, with a new piano score by the Kennington Bioscope's John Sweeney, recorded this week. There's a nice symmetry of Chaplin's final connection with Switzerland, being followed by his origins in London.