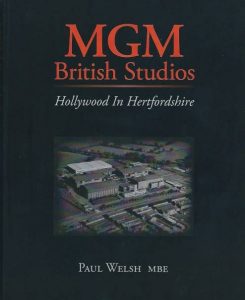 If ever there was a 'Rolls Royce' of British film studios, it was MGM British, which stood on 115 acres off Elstree Way in Borehamwood. From 1936 until 1970 it produced world-famous films, attracting many of Hollywood's most legendary stars, including Ivanhoe (1952); The Inn of the Sixth Happiness (1958); Village of the Damned (1960); The Dirty Dozen (1967); 2001: A Space Odyssey (1968) and Where Eagles Dare (1968), as well as cult TV series Danger Man (1960-62), UFO (1970-71) and The Prisoner (1967-68). But at the end of 1969, filming was suddenly cancelled and within months the doors had closed for good.
2020 is the 50th anniversary of the sudden closure of MGM British Studios. Before the outbreak of the coronavirus pandemic, in association with the 2020 Year of Culture initiative, Elstree Screen Heritage had prepared plans to celebrate the many achievements of the studio, including a free Summer-long exhibition at Elstree & Borehamwood Museum. Many of these plans are now 'on hold' but Elstree Screen Heritage have published a new book, MGM British Studios (Hollywood In Hertfordshire), by local film historian Paul Welsh. Over 300 pages long and containing over 400 photos and drawings, most never before published, this book tells stories of film stars 'when Hollywood came to Hertfordshire' and of the talented staff who worked behind the cameras.
The book costs just £20 (plus postage and packing). For details about the book and how you can purchase your copy, please visit http://elstreescreenheritage.org/essential_grid/mgm-british-studios/.
Praise from early purchasers of the book:
'A superb book … this history of MGM Borehamwood is an absolute delight. I'm fascinated by the history of this pioneering studio, and for people like me this great volume is a must-have.
It is crammed full of rare photos and documents relating to the studio, from its very early days though to the final closure in 1970. It does not stop there though, as it also chronicles the years following closure right up to and including today. The photographs that have been pulled together for this are amazing. Even a longstanding fan of the studio such as myself will find themselves surprised and fascinated by the images included here – most of them were completely new to me!
It's a really wonderful collection of behind-the-scenes photos from MGM Borehamwood productions, as well as many rare photos of the backlot and studio interiors.
Don't miss out on this superb book – I can definitely see it becoming a collector's item in the future! I give it eleven out of ten!'
Mike Grant, founder of MGM (British) Borehamwood Film Studios Memories – a one-stop location for all those who share an interest in this studio.
'A wonderful collection. So much material!'
'Brilliant!'
'Great pictures and well-researched. Also, new things to learn.'
'Fantastic book! LOADS of pics in here which are entirely new to me.'
'A truly handsome and magnificent book, beautifully presented.'
'Delighted to receive my copy. Excellent publication.'