On the 1st and 2nd of June the Kennington Bioscope will present its fifth Silent Film Festival at the Cinema Museum, curated in conjunction with Kevin Brownlow. All silent films will have live accompaniment by our highly acclaimed team of musicians. The films will be introduced by Kevin Brownlow, and other noted film historians. The line up below is to be confirmed and subject to alterations.
---
Saturday Programme
10.00 Programme 1: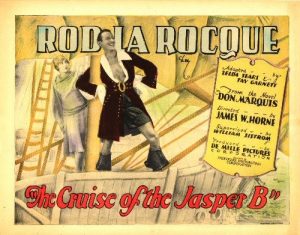 The Cruise of the Jasper B (USA 1926)
Rod La Rocque stars in the more than somewhat surreal comedy romance The Cruise of the Jasper B (1926), directed by James W. Horne (later noted as one Laurel & Hardy's best directors). Piano accompaniment by Lillian Henley.
11.30 Programme 2:
Der steinerne Reiter (Germany 1923)
Fritz Wendhausen's German fantasy-horror Der steinerne Reiter (The Stone Rider) stars Rudolf Klein-Rogge of Dr Mabuse fame and is set in a remote village with a dark past. Piano accompaniment by John Sweeney.
13.00 LUNCH
14.00 Programme 3: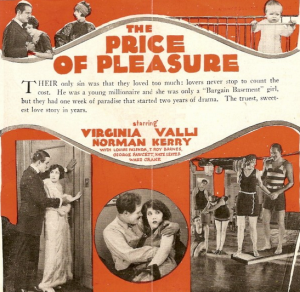 The Price of Pleasure (USA 1925)
The Price of Pleasure is directed by Edward Sloman and stars Virginia Valli, Norman Kerry and Louise Fazenda. In this romantic drama, a shopgirl meets the son of a wealthy family. They marry after a whirlwind romance, but she soon incurs the disapproval of her in-laws. Piano accompaniment by Costas Fotopolous.
15.30 Programme 4:
35mm Shorts from the David Eve Collection – Programme One
David Eve has kindly allowed us access to his collection of rare short films, all of which derive from unique surviving copies now preserved on 35mm at George Eastman House. Today's programme will include fiction and nonfiction items from the USA, Great Britain and France, among them comedies and dramas from pioneering companies Selig, Clarendon and Kalem plus a hitherto missing two-reeler from the Mack Sennett studio. More on day two. Piano accompaniment by Lillian Henley.
16.45 Programme 5:
Beauty's Worth (USA 1922)
Directed by Robert G. Vignola, Beauty's Worth is a romantic comedy-drama starring Marion Davies as a prim Quaker girl who is transformed by a bohemian artist. Piano accompaniment by John Sweeney.
18.40 DINNER
19.30 Programme 6: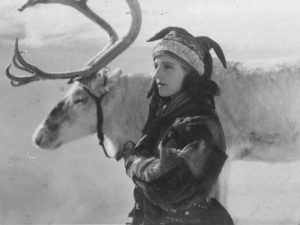 Laila (Norway 1929)
George Schnéevoigt's Scandinavian classic Laila, which stars Mona Mårtenson as a spirited Norwegian woman whose loyalties lie between different suitors, families and ways of life. Piano accompaniment by Lillian Henley.
22.30 approx. CLOSE
Details of the Sunday programme here.
The Museum's café and bar will be open throughout the event serving sandwiches, hot pastries, cakes, snacks, alcoholic beverges and hot & cold drinks.
The Jamyang Cafe, adjacent to the Museum, will be offering a delicious meals during the festival. We encourage you to pre-book when you purchase your festival ticket so we can have your food ready to go, then you can spend less time in a queue and more time sitting down enjoying your meal and break.
Pre-booked dinner: £6.50
You can pre book your dinner when you buy your ticket for the event. You will be given a special voucher on the door when you check in for the festival that you can present at the Jamyang Cafe next door.
If you have already bought a ticket for the event and want to pre book a dinner then don't worry. There is no transaction charge for pre booking meals.
Tickets & Pricing
Weekend Ticket £30 / One Day £18 / Morning Pass £10 / Afternoon and evening pass £12 / Evening pass £6. Available from the TicketTailor website.