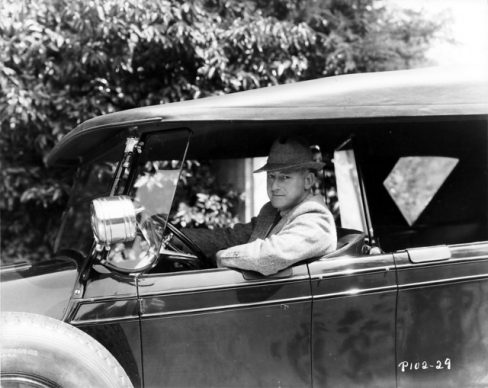 Kennington Bioscope presents a celebration of legendary film-maker Cecil B. DeMille, whose work (and that of his brother, William) has featured in some of our recent weekend presentations. The programme will be curated by Kevin Brownlow, and all prints are 16mm and come from his collection.
10.00 Cecil B. DeMille: American Epic (2004)
Television documentary directed by Kevin Brownlow and produced by Patrick Stanbury.
11.15 The Cheat (1915)
The Cheat stars Fannie Ward as a spoilt socialite who steals money from the Red Cross. When the money is lost, she is persuaded by a rich Japanese businessman (Sessue Hayakawa) to take funds from him in return for sexual favours. Japanese Americans complained about the portrayal of the businessman, and when the film was re-issued in 1918, the character was changed to Burmese. Piano accompaniment by Lillian Henley.
12.20 LUNCH
13.15 The Little American (1917)
Mary Pickford, who also produced, plays a young woman who is courted by a Frenchman and a German in the States. After war is declared, she journeys to Europe, but the ship is hit by the Germans. She is rescued and arrives in France, but is soon caught up in the conflict. Piano accompaniment by John Sweeney.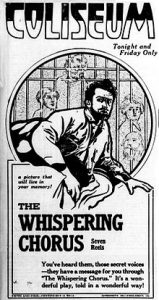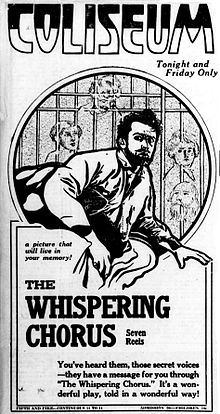 14.40 The Whispering Chorus (1918)
A dark drama with Raymond Hatton, Kathlyn Williams, Edythe Chapman and Noah Beery. John Tremble (Hatton), cashier in a contracting concern, succumbs to temptation and steals $1000 from his employer. He runs away and hides, when he begins to fear detection, to an isolated island, where he becomes a bit of human driftwood. Piano accompaniment by Lillian Henley.
16.25 Male and Female (1919)
A version of J. M. Barrie's play The Admirable Crichton, this stars Gloria Swanson and Thomas Meighan among the desert island castaways who find the established social order changes in their new setting. Piano accompaniment by Colin Sell.
18.30 DINNER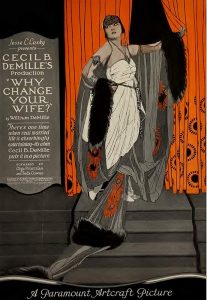 19.45 DeMille Accident Reel – a collection of 'bloopers', including Fannie Ward falling off the little bridge while walking towards Sessue Hayakawa's house in The Cheat.
Why Change Your Wife? (1920)
Classic romantic comedy in which a bored husband (Thomas Meighan) seeks to divorce his staid wife (Gloria Swanson) in favour of a jazz-age girl (Bebe Daniels). Piano accompaniment by Colin Sell.
For more information, email kenbioscope@gmail.com.
Refreshments will be available in our licensed cafe/bar.
Tickets & Pricing
One Day Pass £18 / Afternoon and evening pass £12 / Evening pass £6. Pre-booked dinner at the Jamyang Cafe: £6.50. Available from the TicketTailor website.