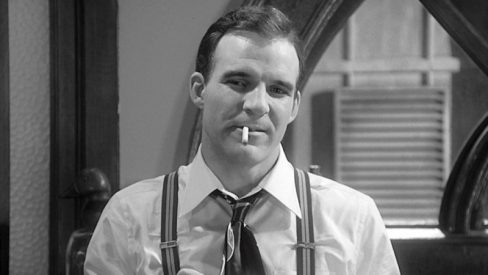 Kennington Noir presents Dead Men Don't Wear Plaid (1982), directed by Carl Reiner, and starring Steve Martin, Rachel Ward and a whole host of Hollywood's finest stars.
Ken Noir's choice of Christmas film is a unique one. In mid-1980, comedian Steve Martin was having lunch with director Carl Reiner and screenwriter George Gipe. They were discussing a screenplay Martin had written where he suggested that they use a clip from an old film. From this suggestion came the idea of using multiple clips from many old films to make up an entire new feature. The three men left the lunch thinking about how this could be done, and how they could incorporate such existing clips into a new story, taking lines of dialogue they wanted to use and juxtaposing them, while also writing a new plot. The result, after a lot of clever production work, was Dead Men Don't Wear Plaid.
Private investigator Rigby Reardon (Steve Martin) helps Juliet Forrest (Rachel Ward), the daughter of noted scientist and cheesemaker John Hay Forrest, investigate her father's death, whom she believes to have been murdered. Noir fans will have a ball identifying the original footage, whilst wondering "how exactly did they do that?"
Veteran costume designer Edith Head, who had worked on many of the original productions reused for this new film, created over 20 suits for Steve Martin in similar fashion to those worn by Cary Grant or James Stewart. Production designer John De Cuir, with 40 years of experience, designed 85 sets (!) for the ten-week shooting schedule. Director of photography Michael Chapman studied the angles and lighting popular among 1940s film noir, conducting research with Technicolor to try to match the old film clips with his new footage.
Digital presentation. Plus supporting programme.
Doors open at 19.00, for a 19.30 start.
Refreshments will be available in our licensed cafe/bar.
TICKETS & PRICING
Tickets £6.
Advance tickets may be purchased from Billetto, or direct from the Museum by calling 020 7840 2200 in office hours.