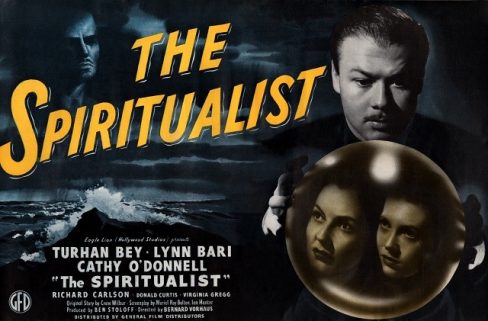 Kennington Noir presents The Spiritualist (1948) directed by Bernard Vorhaus, and starring Turhan Bey, Lynn Bari, Cathy O'Donnell, and Richard Carlson.
The fabulous chiaroscuro cinematography of master lensman John Alton brings a fairy tale atmosphere to this entertaining Rebecca-style tale of hokum and deception.
Two years after her husband's death, Christine Faber (Lynn Bari) wanders on the beach at night, thinking she is hearing her late husband calling to her out of the surf. She meets a tall dark stranger named Alexis (Turhan Bey), who somehow seems to know all about her. After more ghostly manifestations, Christine and her younger sister (Cathy O'Donnell) both become enmeshed in the strange mystic life of mysterious Alexis, but he in turn finds himself manipulated into deeper devilry than he had in mind.
This was shot in three weeks for Eagle Lion, and was also known as The Amazing Mr X.
"Have you ever heard of [director] Bernard Vorhaus? … Highly inventive, with a real love for film, and as clever as a wagonload of monkeys" – David Lean, 1985
Digital presentation. Plus supporting programme.
Doors open at 19.00, for a 19.30 start.
Refreshments will be available in our licensed cafe/bar.
TICKETS & PRICING
Tickets £6.
Advance tickets may be purchased from Billetto, or direct from the Museum by calling 020 7840 2200 in office hours.