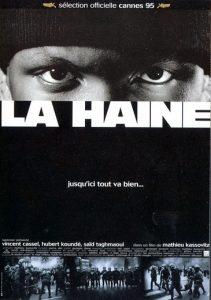 Making a fuss – four French films that dared to be different. A talk illustrated with clips and a chance to see a feature film chosen to inspire.
La Haine (1995) led to a special French Cabinet meeting being called. Was this a film that reflected French social disorder, predicted it or caused it? Mathieu Kassovitz brought together three young talents, Vincent Cassel, Hubert Koundé and Said Taghmaoui in a stunning tour de cinema.
Each film is accompanied by an introductory illustrated talk by Jon Davies, Tutor in French Cinema at Morley College.
Doors open at 13.30, for a 14.30 start.
Refreshments will be available in our licensed cafe/bar.
TICKETS & PRICING
Tickets in advance £8.50 (£6.50 concessions). On the door £10 (£7 concessions).
Advance tickets may be purchased from Billetto, or direct from the Museum by calling 020 7840 2200 in office hours.