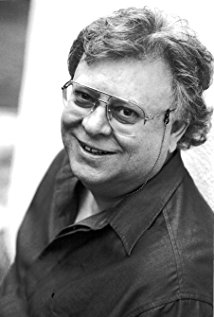 Come and spend an evening in the company of the director Michael Armstrong. Michael will be joined on stage by Misty Moon's special Guest MC Kevin Cann who is a personal friend of Michael. During the Q&A there will be a special screening of The Image.
The Image is a 1969 black and white short film directed by Michael which stars Michael Byrne and David Bowie in his first film role. The film is one of the few short films ever to receive a certified 'X' Rating and it gained this rating due to its violent content.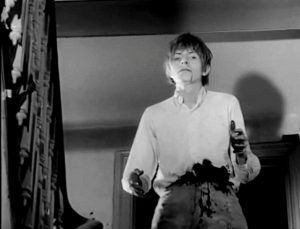 A troubled artist (Michael Byrne) is haunted by a ghostly young man (David Bowie) who appears to step right out of one of the artist's paintings. From a brief summary located on the cover of the film's script, it reads: "a study of the illusionary reality world within the schizophrenic mind of the artist at his point of creativity".
After the Q&A Michael will meet the audience and take part in a paid signing.
Born in 1944, Michael Armstrong trained at the Royal Academy of Dramatic Art and entered the business as an actor before, in 1966, writing and directing his acclaimed short film The Image, featuring the first ever screen appearance of a then unknown David Bowie.
In 1967 he became an inspiration to other budding young film-makers from ordinary working class backgrounds when he opened a door to an industry that was ostensibly a closed shop, by becoming the youngest person at that time to direct a feature film from his own screenplay.
Shot in 1968 and released in 1969, The Dark, re-titled The Haunted House Of Horror (UK) and Horror House (US), went on to huge box offices grosses internationally, pre-empted the teenage slasher films by ten years and pushed the censorship boundaries further than any horror film before. Despite having been badly mutilated by front office interference, it is still rated as one of the most significant horror films of the 60's. At the 1997 Quentin Tarantino Film Festival in Austin, Texas, Tarantino screened it from his personal collection as being one of the horror classics that had influenced him and his work.
It was Armstrong's second feature in 1970 that indelibly established his international cult status. The notorious Mark Of The Devil, starring Herbert Lom and Udo Kier, had audience members fainting, cinemas employing medical staff and was, infamously, marketed in the US with accompanying vomit bags. Smashing box office records wherever it played, it was one of the highest grossing films of the year despite it being either banned outright or heavily cut for decades in many countries including the UK. It is now acknowledged as a genre masterpiece.
In the early Seventies the collapse of mainstream British production took Armstrong to the only remaining finance source left in the UK: sexploitation. Joining TV writer and producer Tudor Gates and first time director Martin Campbell, he wrote, cast and acted in the 1973 landmark sex comedy, The Sex Thief.
Again with Campbell directing and with himself taking a lead role, he repeated the exercise the following year for leading sexploitation producer Stanley Long with the much feted classic satire, Eskimo Nell. It was the first sex comedy to boast a star cast, receive critical plaudits and have a full cinema release across the country. An enormous box office success, it proved immensely popular with audiences, boasting holdovers for weeks wherever it played. It is still considered to be the best ever British sex comedy and a 70's classic.
In 1976 Armstrong again collaborated with Stanley Long, this time with Long directing and distributing through his newly formed, Alpha Films. Intended to cash in on the success of Columbia's Confessions Of A Window Cleaner, their Adventures Of A Taxi Driver became one of the top grossing films in the UK that year and spawned a series, the second one of which, Adventures Of A Private Eye in 1977 was also scripted, cast and associate produced by Armstrong.
He moved back to controversy when he scripted The Black Panther about multi-murderer, Donald Neilson, for producer/director Ian Merrick. Banned by councils across the UK, it is only now that the film has finally been made fully available to the public through the BFI on DVD and Blu-ray. It has been hailed as one of the best British crime films ever made.
In 1978 Armstrong opted out of the third in the Adventures series: Adventures Of A Plumber's Mate, to write episodes of television series such as The Professionals, Shoestring, Return Of The Saint etc, before joining Maiden Music, a company specialising in children's audio plays and eager to branch out into film and TV.
Amongst many of its audio and TV projects for children which he wrote, directed or produced he also adapted Barry O'Keef's children's record with David Niven, The Enchanted Orchestra, for a Royal charity event that he wrote and directed at the Royal Albert Hall featuring the London Symphony Orchestra and 14 major stars led by Sir John Mills.
When a proposed film version of The Enchanted Orchestra failed to materialise, he returned to genre films with three forty minute horror shorts which he wrote, cast and co-directed with Stanley Long, Dreamhouse, That's The Way To Do It, and Do You Believe In Fairies? They were later edited for length and released on video together with linking footage shot in New York by Long for a portmanteau version, Screamtime.
Armstrong's last major creative involvement with genre films was with his multi award-winning screenplay wittily pastiching "Old Dark House" movies, House Of The Long Shadows. Directed by another iconic genre figure, Pete Walker, it starred the last of the great horror legends, Vincent Price, Christopher Lee, Peter Cushing and John Carradine. It is the only time they ever appeared in a film together, making it a part of cinema history.
In 1984, he moved to work in Los Angeles and then Paris, before returning to the UK in 1990 to create an apprentice-based training company, concentrating on producing and directing theatre, both on tour and in the West End, with productions that included Trainspotting, The Kidnap Game with Richard Todd and Hayley Mills, and his lauded production of Strindberg's Miss Julie with Neil Jackson, Cressida Carre and Freddie Douglas.
His company also published the popular industry trade magazine The Grapevine and, after years of having taught acting master classes at almost every major drama school, created his own unique structured 2-year acting course which has since become the training basis of the London Repertory Company Academy.
Additional to his prolific writing career continuing alongside his extensive and diverse creative output over 50 years in the industry, he has worked in distribution, publicity, acquisition, audio production, as a film critic and journalist, written several award-winning short stories, created a long running comic strip and mentored many people starting out in their careers.
Doors open at 19.00, for a 20.00 start.
Refreshments will be available in our licensed cafe/bar.
There will also be a special screening of The Haunted House of Horror (1969) at 6pm before the main event (separate ticket required, details here).
TICKETS & PRICING
Tickets in advance £14 (£13 concessions). On the door £15 (£14 concessions).
Advance tickets may be purchased from Billetto, or direct from the Museum by calling 020 7840 2200 in office hours.