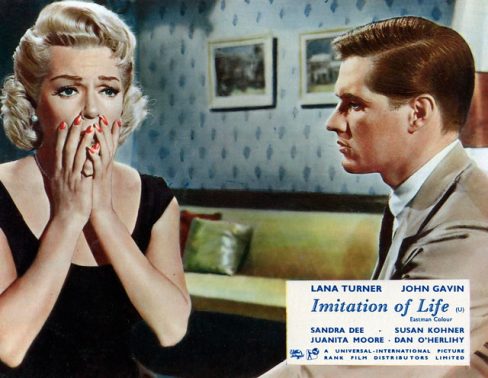 Magnificent Obsessions: The Films of Ross Hunter, programmed by Seán McGovern.
Imitation of Life (dir. Douglas Sirk, USA, 1959)
I would have made the picture just for the title — Douglas Sirk.
Ross Hunter, at one time, was a force in Hollywood. He was an "above the title" producer at a time when not even directors, today considered the visionaries behind a picture, were afforded the same luxury. Hunter was an anomaly in Hollywood. Openly gay (to whom it mattered), flamboyant, with an eye for finery and – most importantly – he knew how to make money. He knew how to turn B-movie material into something that masqueraded as prestige. He had an eye for actresses like Jane Wyman and Barbara Stanwyck, big stars who were on their way down, and gave them roles that would once again enamour them with the public. Hunter was in many ways a proto-Ryan Murphy: the ubiquitous television producer behind such emphatic fanboy productions as Feud: Bette & Joan (2017).
"A Ross Hunter Production" has certain hallmarks: a campy, sometimes manic sensibility, overwrought emotion and high-octane melodrama. But Ross Hunter has largely been forgotten. Not enough is known about his life, or his impact in Hollywood at studios like Universal, considered to be the bargain-bin of the major studios. Magnificent Obsessions: The Films of Ross Hunter is a programme to reconnect audiences to his films, and to rehabilitate his body of work. And like all obsessives, there's an uncompromising style to his work. Sometimes hit, sometimes miss. But all of them magnificent in their own way.
Some of Hunter's best collaborations were with much-revered German director Douglas Sirk, a master of the melodrama and a deeply intelligent man, who worked within the Hollywood machine. There is no better way to start this programme of his work than with Imitation of Life (1959), their last collaboration, and Sirk's final film. A remake of the 1934 Claudette Colbert film of the same name, Sirk spun the story of a down-and-out actress's ascent to stardom, and turned it into the story of her black maid and daughter who passes for white, stealing the picture entirely from Lana Turner. But she was too covered in diamonds to notice. No amount of frocks can dampen the spectacular climax of the film, an emotional powerhouse that will be felt by anyone who ever had a mother.
Doors open at 19.00, for a 19.30 start.
Refreshments will be available in our licensed cafe/bar.
TICKETS & PRICING
Tickets £6.
Advance tickets may be purchased from Billetto, or direct from the Museum by calling 020 7840 2200 in office hours.