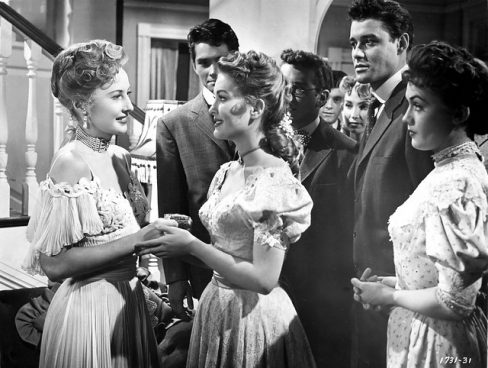 Magnificent Obsessions: The Films of Ross Hunter, programmed by Seán McGovern.
All I Desire (dir. Douglas Sirk, USA, 1953)
Hunter's second collaboration with Douglas Sirk rings of both their hallmark techniques, which for Hunter meant propelling an actress back into the limelight. This time it was Barbara Stanwyck: Her Oscar nominations were all behind her, as was her career best in Double Indemnity (1944). For Sirk, All I Desire had the trappings of a theatrical production, where he first perfected his craft.
All I Desire is an alternate-reality sequel to A Doll's House. Set in 1910, it's been a decade since wife and mother Naomi Murdoch walked out on her husband and children to pursue her dreams to be in the theatre. But her dreams had shortcomings, ending up as a nomadic vaudevillian instead of the Sarah Siddens of the new century. Returning to the family home, in a picture-perfect town filled with all the minutiae of American life (Sirk was deeply fascinated by suburban America), Naomi walks into scene, ready to confront her past but is at risk of repeating it once again. Sirk and Hunter fought for this film to be in colour, but the monochrome light and shadows brilliantly chill the pastoral setting. But Hunter did assert his power – forcing Sirk to shoot an ending that was more palatable to the tastes of audiences. Though Hunter may have transgressed in many ways, he was a sucker for a happy ending.
Doors open at 19.00, for a 19.30 start.
Refreshments will be available in our licensed cafe/bar.
TICKETS & PRICING
Tickets £6.
Advance tickets may be purchased from Billetto, or direct from the Museum by calling 020 7840 2200 in office hours.