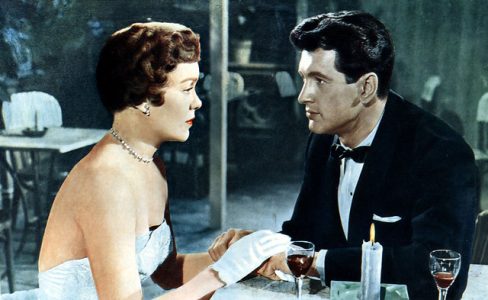 Magnificent Obsessions: The Films of Ross Hunter, programmed by Seán McGovern.
Magnificent Obsession (dir. Douglas Sirk, USA, 1954)
Douglas Sirk, while now considered to be among the greatest European auteurs, is also partly responsible for ushering in a style that inspired the greatest campy TV dramas such as Dallas (1978-91) and Dynasty (1981-9), with films like Written on the Wind (1956) and Magnificent Obsession laying their foundations. Magnificent Obsession is like every ludicrous plot twist in a series of Dynasty rolled into one. A knife edge of trashiness, this is the ultimate collaboration of director and producer: For Sirk, it was to take bad material and redeem it; for Hunter it was to act on all of his most lurid and worst instincts.
Rock Hudson plays Bob Merrick, a reckless playboy, who selfishly, though inadvertently, causes the death of the respected Dr. Phillips. His widow, played by Jane Wyman, is so distraught at her husband's death and the selfishness of Merrick that she spurns any attempt by him to show his remorse. Escaping from Merrick, Helen Phillips walks in front of a car, and is left blind from the accident. It is only then that Merrick realises what he must do to prove he has changed. He dedicates his life to becoming a surgeon, and through well meaning lies, befriends Helen. What happens next has to be seen to be believed…
An exercise in campy hysterics, delicious melodrama and soapy twists and turns, Magnificent Obsession is nearly a total mess, but together Hunter and Sirk created a film so bonkers that audiences couldn't help but love it.
Doors open at 19.00, for a 19.30 start.
Refreshments will be available in our licensed cafe/bar.
TICKETS & PRICING
Tickets £6.
Advance tickets may be purchased from Billetto, or direct from the Museum by calling 020 7840 2200 in office hours.