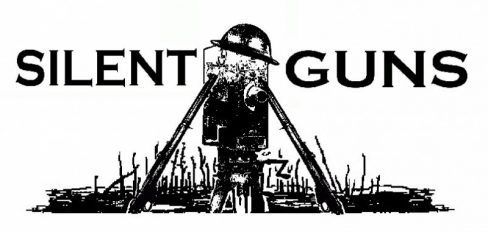 To coincide with the 100th anniversary of the end of the First World War, Kennington Bioscope presents a day of rarely seen silent films, curated in conjunction with the film historian Kevin Brownlow, made during or featuring World War One. The event is expected to run from 10.00 till 22.40.
Almost the whole programme is on film (35mm or 16mm). Mr Brownlow himself with curators from the Kennington Bioscope will be on hand to introduce the films. We will have the leading silent film pianists in the UK, John Sweeney, Costas Fotopoulos, Cyrus Gabyrusch, Lillian Henley and Meg Morley. The line up below is to be confirmed and subject to alterations.
---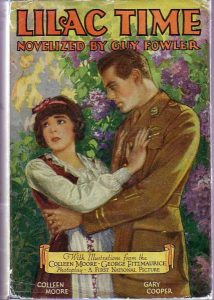 10.00 Programme 1:
Comradeship (UK 1919)
Director Maurice Elvey, with Lily Elsie, Gerald Ames, Guy Newall. Introduced by film historian Dr Lucie Dutton who has recently completed her PhD on director Maurice Elvey.
Maurice Elvey's Comradeship (1919) was his first film for Stoll and also the British studio's first feature-length production, made towards the end of the war. It featured the stage actress Lily Elsie – in one of her rare film appearances – as a Red Cross matron. Elvey took the opportunity to incorporate authentic footage of victory celebrations in London in 1918.
11.55 Programme 2:
When Fleet Meets Fleet / Wrath of the Sea (Die Versnkene Flotte) (Ger 1926)
Directors Graham Hewett and Manfred Noa, with Bernhard Goetzke, Ágnes Eszterházy, Nils Asther. Introduced by Dr Lawrence Napper, Senior Lecturer in Film Studies at Kings College London.
This German film portrays the Imperial German Navy during the First World War, particularly the Battle of Jutland.
13.20 LUNCH
14.00 Programme 3: America at War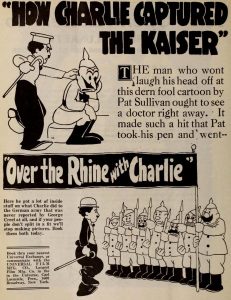 The programme will include:
extracts from the Pearl White serial Pearl of the Army (USA 1916-17), directed by Edward José
How Charlie Captured the Kaiser (USA 1918), directed by Pat Sullivan, an animated short featuring a caricatured Charlie Chaplin
Who Done It? (USA 1917), directed by William Beaudine, a rare 1917 comedy with wartime aspects starring Gale Henry
Lilac Time (USA 1928), a wartime aviation drama starring Colleen Moore and Gary Cooper and produced in 1928. We are screening an abridged revival (with music and narration)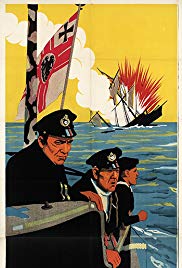 16.00 Programme 4:
Q Ships (UK 1928)
Directors Geoffrey Barkas and Michael Barringer, with J.P. Kennedy, Roy Travers, Douglas Herald. Introduced by Dr Lawrence Napper, Senior Lecturer in Film Studies at Kings College London.
During World War I, the British navy disguised some of its warships as civilian cargo ships, known as Q Ships, in order to fool the Germans. The film is a dramatised account of real events, and features the war of nerves between a German U-Boat commander and the captain of one of the Q Ships.
17.30 Programme 5: Europe at War

The programme will include:
two (out of three) reels of Nurse And Martyr (UK 1915), directed by Percy Moran, an Edgar Wallace story about the British heroine, nurse Edith Cavell. Introduced by Dr Lawrence Napper, Senior Lecturer in Film Studies at Kings College London
the only surviving reel of the British feature The Invasion Of Britain (UK 1918), directed by Herbert Brenon
Réveille (UK 1924), directed by George Pearson and starring Betty Balfour
Armistice Celebration At The Cenotaph (UK 1928), the very first sound newsreel item of Remembrance Day at the Cenotaph
19.10 DINNER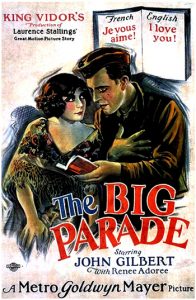 20.00 Programme 6:
The Big Parade (USA 1925)
Director King Vidor, with John Gilbert and Renée Adorée.
King Vidor's powerful and moving American hit The Big Parade (1925) was among the first to explore the psychological trauma of war.
Unfortunately, Cafe Jamyang is currently closed, so it will not be possible to supply lunch from there. Other local restaurants and cafes are listed here. Some hot food will be available before the last film. Other refreshments will be available in our licensed cafe/bar.
Tickets & Pricing
One Day Pass £20 / Afternoon and evening pass £15 / Evening pass £5. Available from the TicketTailor website. £5 evening tickets available on the door.