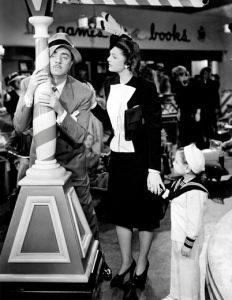 Number four in The Thin Man series, once again directed by W. S. Van Dyke, and with a script by Harry Kurnitz and Irving Brecher, based on the characters created by Dashiell Hammett. William Powell and Myrna Loy return as Nick and Nora Charles, with Asta the dog, and Nicky Jr. now old enough to to feature in the comic subplot. Donna Reed and Barry Nelson also star. This would be the last Thin Man film until 1945, as Myrna Low left Hollywood to volunteer with the Red Cross in New York.
Nick and Nora look forward to a relaxing day at a racetrack, but when a jockey is found shot dead, Nick is asked to help in the investigation. The following action includes a wild wrestling match and a dizzying day at a merry-go-round with Nicky Jr.
Full supporting programme.
Doors open at 13.30, for a 14.30 start.
Refreshments will be available in our licensed cafe/bar.
TICKETS & PRICING
Tickets £6.
Advance tickets may be purchased from Billetto, or direct from the Museum by calling 020 7840 2200 in office hours.