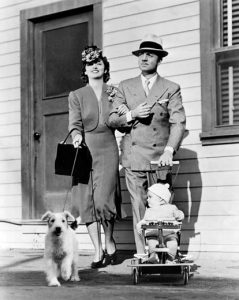 The third in The Thin Man series, again directed by W. S. Van Dyke, has William Powell, Myrna Loy and Asta the dog joined by the Charles's son Nicky Jr. Virginia Grey, Otto Kruger, C. Aubrey Smith and Ruth Hussey also star.
Based on Dashiell Hammett's The Farewell Murder, with a script from Albert Hackett and Frances Goodrich, along with Anita Loos. Nick and Nora are invited to the Long Island home of Colonel Burr MacFay (C. Aubrey Smith), who is the administrator of Nora's inheritance. MacFay wants Nick help as he is being threatened by a shady character called Phil Church. When MacFay is killed, Church seems to be the obvious suspect, but Nick suspects that there is something more complicated going on…
Full supporting programme.
Doors open at 13.30, for a 14.30 start.
Refreshments will be available in our licensed cafe/bar.
TICKETS & PRICING
Tickets £6.
Advance tickets may be purchased from Billetto, or direct from the Museum by calling 020 7840 2200 in office hours.