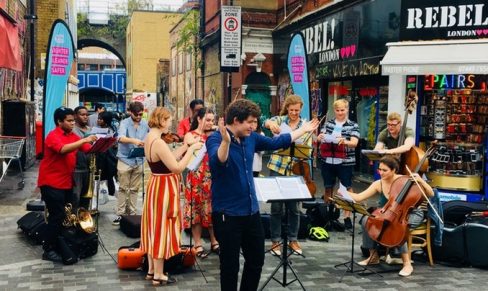 A request for Matthew O'Keeffe, Music Director of the Brixton Chamber Orchestra:
The Brixton Chamber Orchestra is a versatile group of young classically-trained musicians in Brixton, founded 6 months ago. We're an orchestra with a difference, partnering young professional section leaders playing alongside talented local amateurs. We aim to present Classical music in venues and to audiences which may not have engaged with it before, and also to ourselves engage with the diversity of musical cultures in Brixton. We entertain, educate and celebrate the peoples of Brixton.
I'm writing to tell you about a project we're about to launch, and ask for your help. Between 15th-19th December, we are touring a Christmas concert (with a 14-piece mini orchestra) around five Council Estates in Lambeth. We have been invited by the RA's and TMO's to give a concert in their community centres which they themselves will publicise.
Angel Town, 15th
Moorlands, 16th
Loughborough, 17th
Tulse Hill, 18th
Cressingham Gardens, 19th
I think this project has the long-term potential to make a real difference to people. We want to give an opportunity for communities to come together and enjoy an element of our shared culture – an uplifting musical experience, free of charge. These kind of events are so very necessary on estates blighted by drugs and violence. I live on Tulse Hill Estate where a sixteen-year-old was murdered 3 weeks ago. The community was calling out for opportunities to demonstrate solidarity and unity at the RA meeting, and so I offered a concert then and there which was eagerly accepted. Our secondary objective is to stand as an aspirational example of music making for young people – using vibrant performance to exemplify what dedication and hard work can achieve. It is our hope that if successful this will be a yearly event, growing all the way round Lambeth.
Our Kickstarter to fund the tour launched a week ago – we need to raise £3,000 in the next 3 weeks. Please please donate if you can. We passionately believe this project is a force for good, and need the assistance of as many as are willing to offer it!
Thank you.