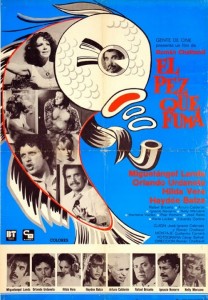 A season of films from Venezuela's so-called Golden Age of cinema, which took place during the 70s and 80s, at a time of much social and political upheaval.
The second in this series is El Pez que Fuma (the Smoking Fish) (1977), directed by Román Chalbaud.
A handsome young man is released from jail and goes to "El Pez Que Fuma", a bordello in the outskirts of Caracas. La Garza, its middle-aged owner, hires the young man as handy man, but soon he takes the place of the administrator, who is also La Garza's lover. It is a tale of power, represented by the owner of the brothel, and the way that power is passed from generation to generation, repeating the same pattern time and again: the one who rises to power has their moment of glory, and then is pushed aside.
Doors open at 18.30, film starts at 19.30.
Live music and typical Venezuelan food will also be provided.
For more information about this season, please email culturaembajadalondres@gmail.com.
TICKETS & PRICING
Tickets £5 on the door.