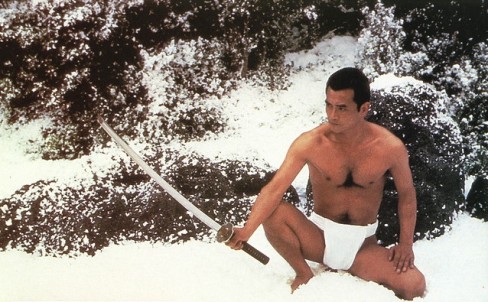 By kind arrangement with American Zoetrope and Paul Schrader, this is a precious opportunity to see the director's restored masterpiece about the life and work of one of Japan's most celebrated authors on 35mm film.
A singular piece, Mishima: A Life in Four Chapters astonished audiences in 1985 with its audacious blend of multi-disciplinary Japanese form and masterful filmmaking technique.
Never released in Japan, Mishima remains among the most challenging and rewarding works from any filmmaker of the New Hollywood era and is widely considered one of the very best American movies of the 1980s.
The Celluloid Sorceress is honoured to present this three-night stand of Mishima: A Life in Four Chapters from Mr Schrader's personal 35mm print, on loan from UCLA Film & TV Archive. The 2006 restoration is not available for purchase, so these screenings are the only chance to see this version in the UK.
After the screening host Nikki Williams will chair a discussion on the film in which the audience are invited to participate.
Doors open at 18.30. From 18.45 to 19.15 Nikki Williams will give readings from Schrader on Schrader in our bookshop. The screening will begin at 19.30.
Refreshments will be available in our licensed cafe/bar.
TICKETS & PRICING
Spring Season 2017 ticketing applies.
Advance tickets may be purchased from Billetto (see below), or direct from the Museum by calling 020 7840 2200 in office hours.