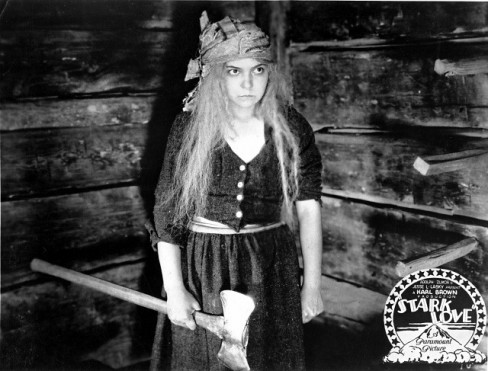 The Kennington Bioscope is a regular cinema event featuring live accompaniment to silent films that takes place at the Cinema Museum.
The main feature is Stark Love (1927), directed by Karl Brown, and starring amateurs Helen Mundy and Forrest James. Produced by Brown, along with William LeBaron, Adolph Zukor and Jesse Lasky, it was released by Paramount Famous Lasky Corporation.
Stark Love is the story of Rob Warwick (James), a young man living in a hillbilly society in Carolina, who learns to read, begins to understand that women should be looked up to, and tries to provide an education for his neighbour Barbara Allen (Mundy). When his mother dies, he has to battle against the reactionary views and plans of his father. A mixture of anthropology and melodrama, this unusual film was a critical success, but a commercial failure, and was thought lost until a copy was found by Kevin Brownlow in the Czechoslovakian film archives. In 2009, the Library of Congress described it as "culturally, historically or aesthetically" significant, and it was preserved in the National Film Registry. We will be screening a 16mm print.
A programme of silent shorts precedes the main film.
Anyone interested in silent film should visit the website for more info.
Tickets & Pricing
£5. Seats are limited, so please request an invitation using the email kenbioscope@gmail.com.