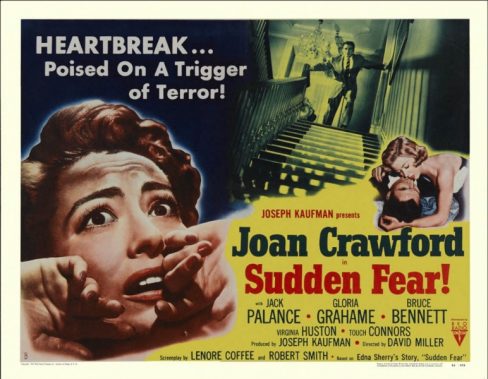 Kennington Noir presents Sudden Fear (1952), directed by David Miller and starring Joan Crawford, with Jack Palance and Gloria Grahame.
This fabulous "woman in distress" noir melodrama stars an on-form Joan Crawford as Myra Hudson, a successful and wealthy playwright. We first see her firing a so-so actor, Lester Blaine (Palance), from her latest stage play. Over the next few months the same actor insinuates himself back into Myra's life, and after a whirlwind romance the unlikely couple are married. All is not what it seems, however, and Myra soon discovers that Lester and his former girlfriend (the wonderful Gloria Grahame) are up to no good and are plotting her early demise. What will Myra do now that she knows what is going on?
Sudden Fear earned Joan Crawford her third and final Oscar nomination and is full of stylish, moody noir cinematography, set against a San Francisco backdrop. Don't miss!
We're happy to be able to screen a rare 35mm print of this title, courtesy of the Ronald Grant Archive.
With supporting programme and an introduction from Kulraj Phullar from Kings College London.
Doors open at 19.00, for a 19.30 start.
Refreshments will be available in our licensed cafe/bar.
TICKETS & PRICING
Tickets £6.
Advance tickets may be purchased from Billetto, or direct from the Museum by calling 020 7840 2200 in office hours.