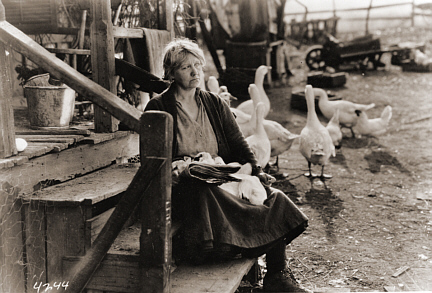 The Kennington Bioscope is a regular cinema event featuring live accompaniment to silent films that takes place at the Cinema Museum.
The main feature is The Goose Woman (1925), directed by Clarence Brown, and starring Louise Dresser, Jack Pickford and Constance Bennett. We will be screening a new restoration of this film on 35mm.
The screenplay is taken from a short story by popular novelist Rex Beach, which was based on the high-profile Hall-Mills murder case. Dresser plays a once famous opera singer who has lost her voice, and returned to her hometown with her son (Pickford), where she lives in squalor under her maiden name, tending a flock of geese. When a headline-grabbing murder case unfolds in the town, she tries to re-capture her celebrity by claiming to be a witness to the murder. She then learns that her son is implicated in the crime…
A programme of silent shorts precedes the main film.
Anyone interested in silent film should visit the website for more info.
Tickets & Pricing
£5. Seats are limited, so please request an invitation using the email kenbioscope@gmail.com.