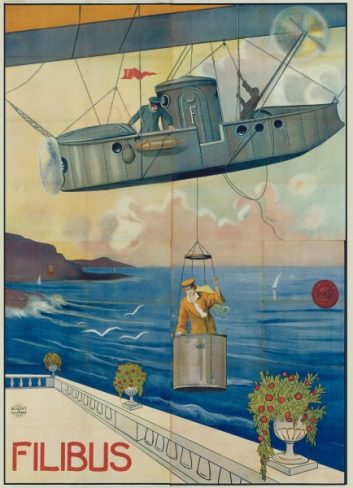 The Kennington Bioscope is a regular cinema event featuring live accompaniment to silent films that takes place at the Cinema Museum.
The main feature is Filibus (1915), an Italian crime drama directed by Mario Roncoroni, written by Giovanni Bertinetti and produced by the short-lived Turin-based production company Corona Film.
Courtesy of the EYE Filmmuseum in Amsterdam.
Filibus takes many of the themes popular in films and literature of the time, and adds a powerful female supervillain and her futuristic airship! Baroness Troixmonde (Cristina Ruspoli) leads a double life as the notorious burglar Filibus, a master of male and female disguises. Following her latest daring bank robbery, the famous Detective Hardy vows to track Filibus down. Attracted by the large cash reward for her capture, the Baroness decides to outwit the detective, while romancing his attractive sister, Leonora.
Although it was not a great critical success on release, the film is now widely admired by film critics for its early use of science fiction motifs, and for having perhaps the first lesbian lead character in film history.
A programme of silent shorts precedes the main film.
Anyone interested in silent film should visit the website for more info.
Tickets & Pricing
£5. Seats are limited, so please request an invitation using the email kenbioscope@gmail.com.