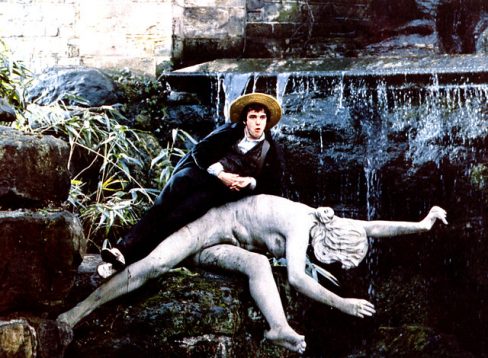 Over five days in August (Wednesday 23rd – Sunday 27th) The Cinema Museum will be celebrating the life and work of a visionary genius – a groundbreaking pioneer in TV and film making – the flamboyant, unconventional, controversial, and one of the last great British romantics, Ken Russell.
Ken's work includes biopics, horror, musicals, documentaries and thrillers, and during this exciting event we will be showing a selection of his most celebrated movies, TV films and rare shorts.
Lisi Russell will be talking to Brian Sibley about living and working with Ken, with other guests including Judith Paris and Mike Bradsell. Followed by a 35mm screening of Savage Messiah (1972).
Lisi Russell met and married Ken in 2001, and worked with him on most of his late output, including The Fall of the Louse of Usher (2002) and A Kitten for Hitler (2007).
Judith Paris is an actress who has worked with Ken throughout his career in both films and television, including Dante's Inferno (1967), The Devils (1971), Savage Messiah and The Rainbow (1989).
Mike Bradsell edited almost all of Ken's films, from Dante's Inferno to Boudica Bites Back (2009). Other films he has edited include Culloden (1964) and The War Game (1965), That'll Be the Day (1973) and Stardust (1974), Scum (1979), Local Hero (1983) and Wilde (1997). Mark Kermode has called him 'The best editor in the U.K.'
Savage Messiah is the story of French sculptor Henri Gaudier-Brzeska (Scott Anthony) and his lover Sophie Brzeska (Dorothy Tutin). Gaudier moves to London and falls in with the Vorticist movement, as well as a socialite suffragette played by Helen Mirren. He joins the French army on the outbreak of the First World War and dies in 1915 aged 23. Ken acted as producer on Savage Messiah, and provided most of the finances. The sets, as with The Devils, were the work of Derek Jarman.
Doors open at 13.30, for a 14.30 start.
Refreshments will be available in our licensed cafe/bar.
TICKETS & PRICING
Tickets in advance £14 (£13 concessions), on the door £15 (£14 concessions). Or get a season ticket – entry to all five Ken Russell events – £60 (£55 concessions).
Advance tickets may be purchased from Billetto, or direct from the Museum by calling 020 7840 2200 in office hours.