Guy Edmonds from EYE Film Institute Netherlands introduces premieres of EYE's latest film preservations, commenting on the analogue and digital techniques employed in the preservation process. Tom Bell will be providing live musical accompaniment.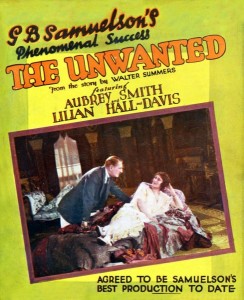 The main feature of the evening is the premiere of The Unwanted (1924, 95 min), a British film recently rediscovered in the EYE collection. This G.B. Samuelson production, directed by Walter Summers and featuring C. Aubrey Smith and Lillian Hall-Davis, has been unseen for 80 years. The Dutch title Het Gezicht naar den Vijand, or Face to the Foe, is taken from the hero's family motto, whereas the British title alludes to the story of illicit love and an illegitimate child. The film actually combines both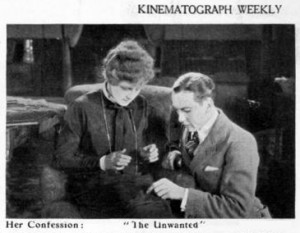 these elements into a narrative set over two generations before and during the First World War. It opens with location shooting in Venice and Switzerland and features later scenes on the Western Front shot with an original WW1 tank known as "Crème de Menthe".
But first "A Hundred Years Ago" (70 min) features UK premieres of early French shorts preserved by EYE in conjunction with the Archive Film Agency:
Sémiramis (1910) – an early filmmaker's vision of the hanging gardens of Babylon in Camille de Morlhon's Pathécolor stencilled film, featuring Yvonne Mirval as the Assyrian queen
La fiancée récalcitrante (1909) – with the French actress and singer Mistinguett cross dressing to avoid her father's choice of husband
La Garde meuble automatique (1912) – Roméo Bosetti's trick stop-motion animated film made at the Pathé Comica studios in Nice, featuring a novel approach to furniture removals
Rosalie emménage (1911) – also made at the Nice studios (which specialised in humorous films), with Roméo Bosetti again directing; the Rosalie series of over thirty films (1911-12) featured the plump Sarah Duhamel, here attempting to do a bit of DIY in her new apartment
Mr Myope chasse (1910) – after shooting a young calf, a short-sighted sportsman finds himself being chased by a whole army of local workers
La fille de faux monnayeur (1907) – an early Louis Feuillade Gaumont drama about a counterfeiter's daughter, set in the slums of Paris
Calino, inspecteur du travail (1911) – a Jean Durand Gaumont film (series 1908-13), in which works foreman Calino (Clément Migé) has an important job to do
Onésime contre Onésime (1912) – another Jean Durand Gaumont film, from a 1910-14 series featuring Ernest Bourbon as Onésime (Simple Simon in Britain); there is creative use of double exposure here as Onésime leads a double life
Ventilateur breveté/The New Air Fan (1911) – featuring a novel idea for keeping cyclists of the day cool
L'endormi/The Sleeping (1911) – our final short is another Pathé Comica production, in which Nedo, after receiving cocaine for his terrible toothache, cannot wake up despite everybody's best efforts
This event is expected to end around 22.30.
With thanks to Elif Rongen, Guy Edmonds and Tony Fletcher.
This event has been made possible through the co-operation and generosity of:

EYE Film Institute Netherlands
Bob Geoghegan, Cinema Museum/Archive Film Agency
Tickets & Pricing
Autumn Season 2011 ticketing applies.