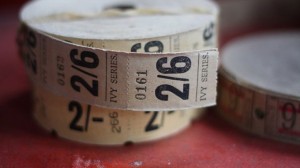 The Cinema Museum continues its fundraising campaign to secure the Museum's future with a new season of film screenings and live talks, presented by key film industry figures and film historians.
The Autumn Season is now underway with an eclectic programme that includes: a celebration of the legendary Scala cinema with cult double bill Pink Flamingos and Bride of Frankenstein; more horror, first in the form of the creepy 1929 film The Silent House, then with an evening in the company of eminent horror writers Kim Newman and Jonathan Rigby, and finally at our Halloween event "Pumpkino"; a cracking children's workshop on Gromit-building from senior Aardmans' animator Jim Parkyn; conversations with Earl Cameron, Dudley Sutton and Ron Moody; and even a grand reunion of St Trinian's girls!
There are currently full details on our website for all this season's events up to and including 4 November – see our Upcoming Events pages.  There will be more details to follow on events later in the season, but here's a brief rundown:
4 November @ 19:30 Just Do It: screening + panel discussion with director Emily James

10 November @ 19:30 A collaboration with Brooklands motorsports and aviation museum + Death Drives Through (1935)

19 November @ 14:30 Sci-fi Screenwriting workshop with writer Barry Langford

19 November @ 19:30 St Trinian's Girls Reunion – we welcome on stage the little hellions from the original 1954 film The Belles of St Trinian's, with Neil Brand playing headmaster for the evening.

26 November @ 19:30 An Evening with Ron Moody

15 December @ 19:30 Terry Sanderson presents "Ribticklers": an evening of vintage comedy – Christmas fun for all the family! 
+ check out our French Film Sundaes – Sunday afternoons with a classic French film plus a talk by Jon Davies – which continue into the New Year.
Each of our events features:
A warm welcome and chance to explore the Museum from an hour before the start of the event
Extracts from classic film and TV
Discussion with industry experts/film historians
Refreshments & an opportunity to socialise
Tickets & Pricing
(unless otherwise stated)
In advance: £6.50 – Either online, by going to WeGotTickets and searching on the name of the event, or from the venue (cash only) – please phone ahead on 020 7840 2200 or email us at info@cinemamuseum.org.uk.
On the door: £8.00
Concessions: £5.00 – Retired, students and the unemployed (with proof of concession).