The Kennington Bioscope is a regular cinema event featuring live accompaniment to silent films that takes place at the Cinema Museum.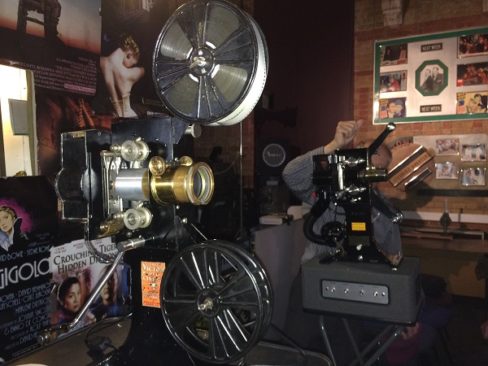 The first half will consist of a special screening of the first ever home movie format, Pathé's 28mm. This is the only major film format not shown at the BFI's Film on Film season, and allowed films to be shown in non-theatrical venues, including the home, using safety film. The films shown will be original prints made between 1912 and 1922, including an early animation and a Mr and Mrs Sidney Drew film, and will be projected using an original restored 28mm projector, by film historian Christopher Bird.
It (USA 1927, dir. Clarence Badger). 35mm print.
Starring Clara Bow and Antonio Moreno, It is based on stories from the sensationalist novelist Elinor Glyn, of Three Weeks fame. She had coined the term `it' to describe what makes a personality attractive in her 1914 novel The Man and the Moment; the novella It and its screen version – to which Glyn contributes a cameo, as herself – both appeared in 1927. Glyn's onscreen explanation of what defines `it' makes this an early example of the `concept film' as well as of product placement, given that her story is seen being read in Cosmopolitan, the magazine in which it had been serialised the previous year. Stage actress Dorothy Tree had her first film role in a small, uncredited part. Similarly, a young Gary Cooper was cast in a minor role as a newspaper reporter. The film was a box office hit, consolidating Clara Bow's burgeoning status as one of the most popular actresses of the era and acquiring for her the soubriquet `the IT Girl'. A year later she starred in a film version of Glyn's 1905 novel Red Hair, of which only some brief Technicolor footage of Bow is known to survive.
The feature will be introduced by Michelle Facey. Colin Sell and John Sweeney will be playing for the 28mm films, and Cyrus Gabrysch will be accompanying It.
To celebrate our anniversary, a free glass of bubbly (okay, it's prosecco!) will be handed to the first 50 people to arrive!
Silent film with intertitles which may be suitable for the deaf and hard of hearing.
Tickets & Pricing
£7. Seats are limited, so please arrive early or request an invitation using the email kenbioscope@gmail.com.